For many of us, we're already thinking about how we can make an income off of our properties before we're even settled in!
There is no more incredible feeling than to truly feel self-sufficient on your property and be able to generate money off of it.
So unless you are looking to open a significant farm or manufacturing facility, there are many small businesses that you can operate from your backyard to help bring in the funds you're looking for to help support your self-sufficient life.
Seeds
For those serial gardeners, be sure to harvest seeds from your flowers, plants, and vegetables at the end of every season.
Seed farming is an attractive, diverse business that can be run from your property. An easy and interesting option for seed selling is to offer your seeds online for a chance to widen your audience. Seeds are lightweight and can fit in standard envelopes, taking the headache out of packaging orders for shipment!
Eggs
You would be hard-pressed to visit a homesteader's backyard and not find chickens.
Hens are easy to keep, reproduce, feed, and boy do they give a plethora of eggs!
With one of the staple items in most kitchens being eggs, the demand for fresh eggs never ceases.
To start selling eggs from your backyard, invest in a coop that is easy to clean and move along throughout your property. The ability to move your coop ensures that your hens have plenty of dirt bugs to grub on.
Don't forget that free time roaming in their designated area (away from your fruit and vegetables!) is essential for your girls. Well-fed hens showered in fresh air and sunshine give the finest eggs!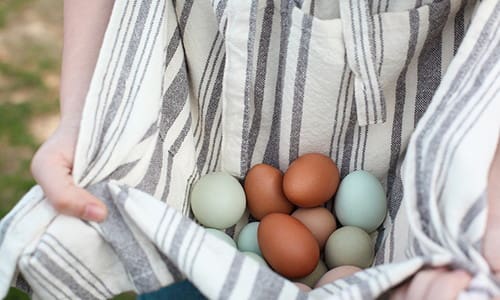 Nursery
Nurseries are great backyard businesses for those looking to start an activity quickly.
After investing in a sizeable greenhouse, you're free to plant all your heart desires. You can care for your budding plants and place them in smaller pots for resale to gardeners looking for a quick start.
Nurseries are businesses that can easily be done in conjunction with other backyard businesses, such as vegetable, flower, and seed farming.
Flowers
You can become a backyard florist!
For those creative individuals who love an abundance of color and building something pretty to look at, growing flowers to sell out of your backyard or at a local farmers market is a dream.
Imagine the possibilities – local flowers, seasonal flowers, exotic flowers, edible flowers – you and your future customers will be spoiled for choice!
Related: How to Prepare Your Soil For Your Spring Garden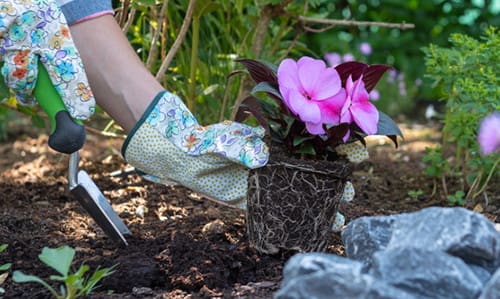 Beekeeping
Where would we be without Bees?
In addition to caring for these creatures that give us so much of life's enjoyable (and essential) elements, the byproduct of your hardworking bees gives you a lot to work with. Honey, pollen, candles, balms, mead… Beekeeping allows you to build a business with a wide variety of products to capture a large audience.
Although many people believe you need a large amount of land to keep bees, even those with modest backyards can introduce bees to their life.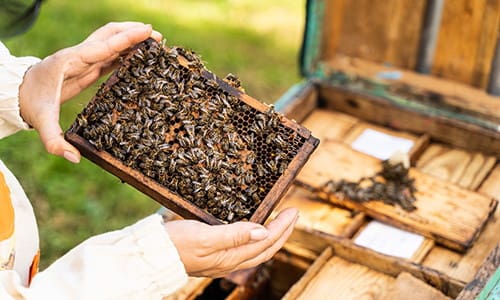 Fruit and Juice Producer
If your property has an orchard of fruit trees, consider picking your fruits to sell out of your backyard and at local farmer's markets. The investment of a fruit press allows you to add fresh, unpasteurized juice to the mix – an in-demand commodity!
Cheese
Are you keeping goats in your backyard? Cheese-making may be for you!
Cheese-making involves a lot of skilled labor and allows for creative freedom and an abundance of opportunities to experiment on making the best new cheese available in your market.
But why stop at cheese? Goats milk, much like donkey milk, is versatile and can be sold in liters for drinking and used to make soap, lotion, hair products, and more!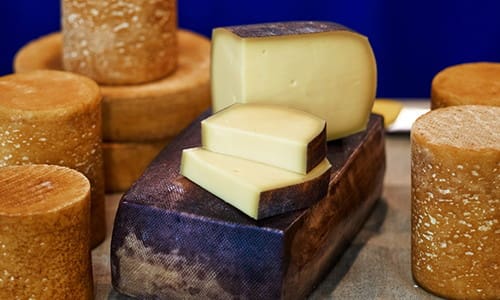 Vegetable Producer
One of the first backyard businesses many think of is selling vegetables grown from their garden.
Although the space and time required for this sort of business are much more than many understand it to be, it is a very viable business to run from your backyard. And more, it is an activity that can easily be added to other business ideas from this list, such as seed and flower farming and running a nursery.
Important Tip: Don't go too big too soon. It's best to start with a smaller selection of vegetables until you are confident you will achieve a successful harvest after the first couple of seasons.
Related: The Best Vegetables To Grow To Turn A Profit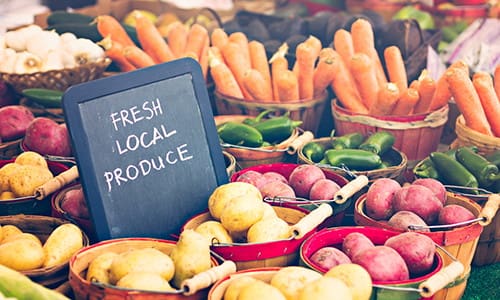 Tea/Herbal Mixes
For those with a penchant for health-oriented concoctions made from herbs and spices, growing tea plants and various herbs and flowers to create your own tea and herbal blends for sale is a gratifying and creative backyard business.
Many courses online and in rural areas are dedicated to educating those who want to learn more about the medicinal uses of plants and flowers to help you gain the knowledge needed to create healing blends for sale.
Canning
If you're the type of person who enjoys spending time in the kitchen, consider canning assortments of fruit compote and pickled vegetables and sauces as a backyard business.
Your offerings don't have to stop at fruits and vegetables either; pestos, rillets, and patés are all products regularly made by backyard canning businesses. Canning is genuinely a job for the gourmet who enjoys creating big flavors to share with others.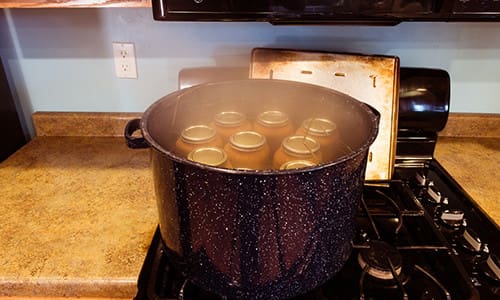 Even when keeping a distance from agriculture work, there are still many businesses you can run from the backyard; ceramics, woodworking, glass-making fiber-spinning, and more.
There's a backyard business niche for everyone. Many backyard business activities can easily be combined with other activities to allow you multiple income streams.
To get off to a good start in whichever backyard business you choose, let your neighbors know what they can find in your backyard, place ads in local markets, magazines, and newspapers.
And the most effective way of getting the word out there is to rent a spot at local farmer's markets to show off your goods and let everyone know where to find them!
You may also like: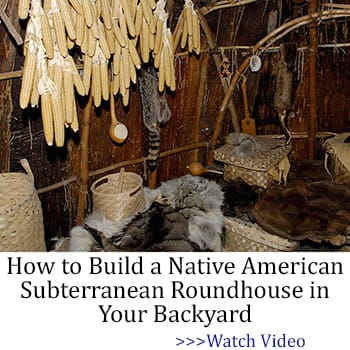 10 Money Saving Tips From A Cheapskate
Woodworking Projects You Can Make On Your Property (Video)
Chicken Secrets Nobody Told You About
11 Things That Won't Lose Value In A Crisis