Bringing up children in a home full of visitors meant that my parent's home was always stocked with healthy snacks – my parents would buy fruits by the basket, and each fruit had its own set of rituals when it came to how we ate them and what we did with the peels.
When it came to oranges, my mother would worry more about whether the peels were being saved for her, than whether we were eating the fruits themselves!
Our large courtyard had orange peels spread out on cotton sheets to dry in the sun, every year during the citrus fruit season. She had a recipe for homemade body scrub made with orange peels, natural turmeric, and chickpea flour, that she swore by. She said it was great for the skin, protected us against sunburn and even worked as a pest repellent against mosquitoes and bugs.
As an adult, the habit of saving orange peels stayed with me, even though it took me a few years to finally discover ways to use them myself. I loved the aroma and freshness, so I began with experimenting with using peels in my food, and then later discovered several other ways orange peels would be beneficial for home and body maintenance.
Home Maintenance
The oils stored in the orange peel have a strong aroma and are powerful degreasers, making it a very simple ingredient for DIY housekeeping solutions.
Related: DIY Cheap Bio Enzyme Solution For Home Cleaning
Surface Cleaning Solution
You can use orange peels to make a surface cleaning solution that can be used either in diluted or pure form to keep our home grease-free and fresh.
Here are a couple of ways to use orange peels to make a surface cleaner. You could make bio enzymes by fermenting the peels with a little bit of sugar/honey and water. It takes about a month for the peels to ferment, and you will get an effective surface cleaner that works well on tough stains, floors, and bathrooms. Bio enzymes can be diluted and used for regular mopping of your home.
A quicker, all-purpose cleaning solution would be to fill a jar with orange peels and cover it with plain white vinegar. Store the jar in a cool, dry place for about a week, strain the liquid and use as a general-purpose surface cleaner. This solution works beautifully for glass surfaces, counter tops, and windows and can be used as a cleaning spray.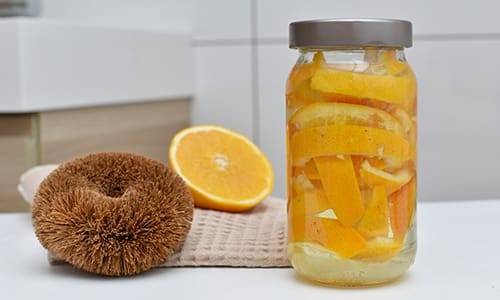 Pest Control In Your Garden
My mother was not wrong when she said her homemade body scrub protected us from insect bites, for orange peels can be very effective in keeping difficult pests away from your plants.
Steep half a cup of chopped orange peel in about three cups of boiling water for 20 minutes. Strain and allow the solution to cool before storing it in a spray bottle. This solution can be used in your garden every 7-10 days to get rid of ants, aphids, white flies, and other insects.
Compost
While vermicompost specialists advise against using orange peels as they are not preferred by earthworms for decomposition, you could add orange peel to other composting systems.
The peels are loaded with potassium, nitrogen, and phosphates, giving your garden valuable nutrition from your food waste. Remember to chop them into smaller bits, to help the peels decompose faster.
Related: 39 Items You Can Compost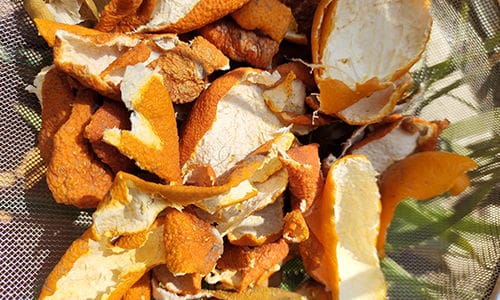 Air Fresheners
There are simple ways to get the heady aroma of orange peel to combat unpleasant smells in your homes, cupboards, and bathrooms.
Place some fresh orange peel in your cupboard or with your shoes for a fresh, citrus odor. Simply replace the peels with fresh peels once they dry.
Elaborate cooking or frying usually means you are left with a kitchen that has a strong and greasy smell. Cover some orange peels with water and bring to a boil on a stove top. Once it begins to boil, allow it to simmer for 15-20 minutes without a lid, so that the vapors will spread all over the kitchen with the pleasing orange aroma making your home smell fresh again.
Food and Beverages
Orange peels have a wonderful sweet bitter flavor that reminds me of cozy autumn and winter evenings. They are also rich in fiber, vitamin A and vitamin C, making them powerful antioxidants.
Orange Peel Candy: this has the perfect balance of bitterness and sweetness and can bring a new dimension to fruit cakes and desserts. I even enjoy using chopped bits of orange candy in salads or cocktails. Peel and cut orange peels into long strips. Boil the orange peel in a saucepan with water, sugar, and vanilla essence until they are just soft but still vibrant in color. Drain and spread out on an absorbent cloth to dry for 15-20 minutes. Now gently toss the orange peels with some granulated sugar to coat them. Finally allow the peels to dry completely at room temperature and store the candy in an airtight jar.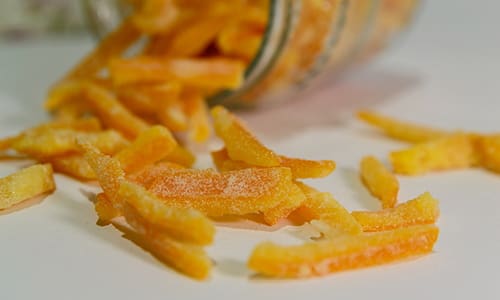 Orange Salt: flavored salt is one of my favorite ways to store dry herbs, and I have discovered that orange salt can add a gourmet twist to salads, soups and even on fruits and desserts. It is important to use only the zest of the orange, and avoid the white rind, so that the salt does not taste bitter. You could use a grater or a peeler and take fine shavings of the orange for this.
Chop the shavings into small pieces and mix with coarse sea salt. Spread on a drying mat and allow to dry completely – you could even use an oven to quicken the process. You now have salt with the beautiful flavor of orange zest, that is just perfect to sprinkle over salads and soups. You could choose to mill this into a finer powder if that is what you prefer.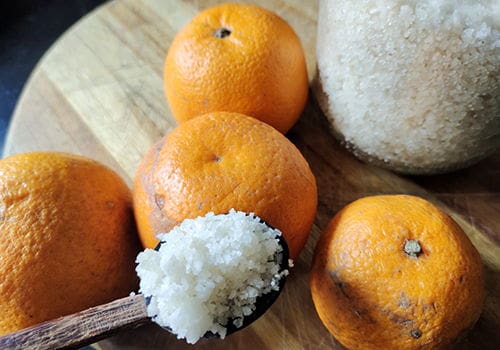 Personal Care and Luxury
Orange peel has antibacterial and antimicrobial properties, making it great for oily skin. It is known to retain skin moisture, remove tan and regenerate the skin cells.
Orange Sugar Face Scrub: granulated cane sugar is a gentle exfoliator for the face, and combined with the benefits of citrus peel, this face scrub is an excellent every day personal care solution. Dry orange peels in the sun for a few days until they are completely brittle, and then powder the peels. Mix the orange peel powder with granulated sugar. Mix in a little coconut oil, you could use some orange essential oil to get a beautiful aroma in your face scrub.
Store your face scrub mixture in a dry mason jar in a cool place and remember to use a dry spoon for every use.
Orange Peel Foot Pack: dried orange peel powder makes an excellent foot pack for cracked heels. Mix the powder with a little bit of milk or cream to make a paste and use this as a pack for cracked heels. Allow the pack to dry fully and then wash away.
If this is too complicated, simply rub a bit of fresh orange peel on your heels every night at bedtime. The natural citrus oils will help maintain your heels daily.
You may also like: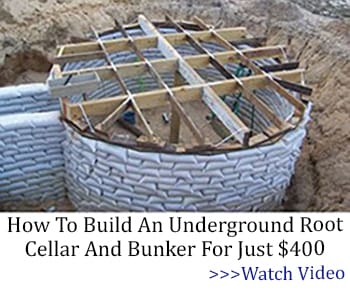 6 Simple Ways To Naturally Remove Mold
The Bunker Food You Need To Have Right Now (Video)
What Happens If You Ash Your Garden
Do You Have This Plant In Your Backyard?
This Is Why You Should Have Charcoal Around Your Property