From disastrous wildfires to devastating hurricanes, natural disasters occur across the globe all the time. Unfortunately, after every natural disaster come chaos, fear, and grief. Moreover, there's no way of stopping Mother Nature from sending catastrophic disasters.
However, there's one thing you can do; prepare yourself, your family, home, pets, and livestock for the oncoming danger. Especially if you're a homesteader, chances are, these things have been running through your head. Without proper knowledge and preparation, homesteaders may not protect their family members, pets, and home from various crises. Here I will discuss in detail the ways to prepare yourself in advance for natural disasters: 
Preparing Your Family for a Natural Disaster 
There's no way of knowing when a disaster breaks out. Fires can be unpredictable and spread at a frightening speed, whereas earthquakes can be devastating even if they last for a minute. 
For this reason, you and your family members must always be ready to protect yourself from the oncoming disaster. The most obvious thing to do is identify the kind of dangers your home is prone to.
Make a Plan
It's always a good idea to prepare you for an emergency before it occurs. For this reason, select a couple of reliable and trustworthy information sites that warn you about weather calamities in your area. Ensure your little ones aren't feeling afraid by discussing your plan with your family. 
Plus, include your pets and neighbors in your preventive plans that may consist of:
A safe spot where all of you can meet

A way for all of you to contact each other in case cell service or electricity is out 

Techniques and ways to find each other in the chaos

A ready-to-go emergency bag

Ways to overcome various natural disasters, such as fire, hurricane, earthquake, and so on 
Craft the Ideal Disaster or Bug out Bag Kits
Prepare yourself for a natural disaster by crafting the perfect disaster bag. Be sure to restock it on a day-to-day basis and consider your, as well as your pet's needs for several days when packing.
It should include food, water, and other necessities for at least a full 72 hours. Here's what you should have in your bug out bag:
One gallon of water per person as it's crucial for one's survival
Food that lasts at least three days since finding emergency evacuation shelters can take time.
Keep a week's worth of medicine that your doctor recommends.
Add flashlights, radio, and extra batteries to ensure safety when moving around unknown areas.

Fire and storms can downgrade the quality of air. Therefore you'll need dust masks and plastic sheets to protect yourself from the dangerous atmosphere.
Set Your Animals Free  
No matter the kind of natural disaster you're facing, you must set your animals free from their confines. For instance, if you keep your chicken to their coop and a flood overtakes your city, your adorable pets may end up drowning.
If your animals don't boast proper branding, utilize non-toxic spray paint to write your name, as well as your phone number on your livestock and pets. Besides, keep a pet carrier at your disposal during hurricane and wildfire season. Metal cages are ideal for temperamental pets like puppies and cats, whereas a 10-gallon tote alongside a lid with a small aerator is perfect for fish tanks. 
Practice Your Drills
Here's the thing; in case a devastating fire breaks out in your building, you won't have time to teach your kid how to climb from his window to the escape ladder safely. 
For this reason, you must rehearse your evacuation route with your family and friends every couple of months. Designate a meet-up area for your family members if you typically go through different paths when rushing out of the house. Plus, write your phone numbers in indelible ink on your little one's clothing tags to ensure rescuers can quickly contact you if your child gets lost.
Secure Your Home for Staying or Going
Regardless of whether you're fleeing your house or staying in it, be sure to take adequate common-sense measures to protect your home. You can follow these tips in either case: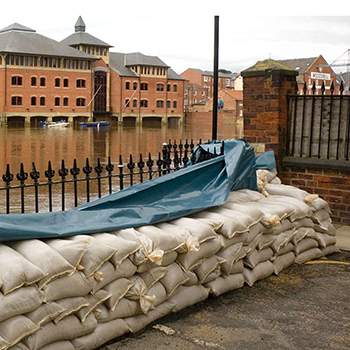 Clear and adequately brush away debris if you live in an area that experiences natural fire disasters.

If you reside in an area suffering from prevalent floods, fill up sandbags and place them around ingress areas. 

If your state experiences hurricanes often, be sure to hammer boards over your windows. 

Also, if you plan on evacuating, locate shutoffs for gas, electricity, and such before leaving. Plus, depending on the notice your house boasts, you can increase refrigerator and freezer settings before cutting off the power. 

If you're staying, find areas away from your windows. It could be your basement where you can wait till the storm passes away.
Begin Rebuilding 
Natural disasters often leave behind a whirlwind of destruction, including broken buildings, debris, and whatnot. After the disaster finishes, you'll have to start doing the dirty work, aka, digging into the area.   
For this reason, you must gear up with the proper supplies like wearing a hard hat, safety gloves, and waterproof boots to prevent injuries during a fall-off.
Plus, be sure to pace yourself during the cleaning process. The aftermath of a natural disaster can be overwhelming; therefore, you must take breaks for your body and spirit. Staring at broken heirlooms and antiques can take an emotional toll on you, so allow yourself to rest. 
The Takeaway 
While there's no way of completely stopping a natural disaster, neither can you eradicate the likelihood of your home suffering. However, with adequate planning and preparation, homeowners can reduce the destruction of a natural disaster. 
Plus, proper planning allows you to rebuild your life once the crisis is over. While every home has unique characteristics and needs, above are necessary preparation steps all homesteaders can follow.
You may also like:
This Homemade Device Can Power Up Your Entire House 7 Days in a Row (Video)
25 Powerless Appliances for Your Homestead Kitchen
The Best DIY Traps Against Property Intruders
Boost Your Soil Quality With This Compost