It doesn't matter if you grew up in the country or a big city because the idea of homesteading can appeal to anyone. It's a determined way to start afresh, but it will need some planning on your part. After all, homesteading is an entirely different approach to life because it encourages growing your own fresh produce. If you're looking to start your homestead, here are the best places in America for you to consider.
Best Homesteading Conditions
Before you get on to your homestead journey, you must look into a few important factors that could help you find the ideal location for your homestead. After all, location plays the primary role when you opt for homestead living.
Cost- Do not be easily intrigued by lower costs. You may find cheap land with more acreage but can be subject to additional expensive property taxes. There are also certain exceptions of taxes in certain states, and you have to go over each of your options to find the ideal area.

State Laws- Some states have relatively more friendly laws for homesteaders that can prove favorable, especially when weather or location conditions may differ. It can offer protection during times of hardship, which is essential when you opt to start a homestead.

Water resources and Growing Conditions- Since you will be leading a natural and organic way of life. You will need water for everything, and that includes your growing conditions. From organic reproduction to energy generation, the abundance of water is vital for your homestead. Look for areas with rivers and lakes close by rather than choosing an area that has unfavorable, hot, and dry climate conditions.

Climate- Take a look at the climate before you invest in your homestead location. The right climate can set a lot of things straight for you. While it may be a bit more expensive than other places, choosing an area with an appropriate climate for your organic living is an ideal choice to make. From energy reproduction to perfect growing conditions, carefully consider the climate of the area you wish to create your homestead in.
Best Homesteading Places in America
Take a look at some of the places we think are best to start a homestead. See which one might suit you the best in terms of creating the perfect homestead for you and your family.
Alaska
If you want to distance yourself completely from the world and solitude is your cup of tea, Alaska is your ultimate choice. The state offers pure bliss and helps you develop a close relationship with nature. Alaska is such a remote area that most places only be reached through air travel. However, we recommend that you spend at least a year's worth of time in Alaska and mingle with/consult the locals there before your final move. The benefits of living in Alaska comes with the price of harsh and severe winters that not everyone can withstand.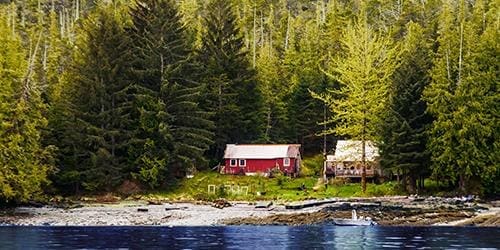 Montana
If you want to begin your homesteading journey with nature's beauty surrounding you, Montana is the ultimate destination. Living near the Rocky Mountains is a sight, unlike no other. The growing season here is a bit challenging, especially due to the severe winters, but it comes with the advantage of the perfect, beautiful summer weather. Many homesteaders opt for Montana because of its serenity and summers. Together, these benefits allow them to tackle any challenges that come their way, using creative measures to be self-sufficient.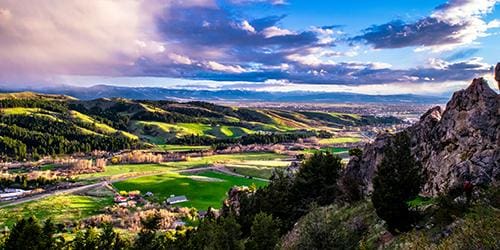 Idaho
Idaho happens to be one of the most popular places to settle in terms of creating a homestead. It currently is already home to over 60,000 homestead settlements. So if you're looking to create a homestead by not being too distant from the civilization, you can consider settling in Idaho, which is popular for its hospitability. Of course, if you enjoy your privacy, you can find plenty of places with smaller populations.
Idaho gives you plenty of options when it comes to finding the ideal climate to live in, thankfully. Except for wildfires, living in the state comes with fewer risks of natural disasters. Depending on what side of the state you live in, you can enjoy different weather conditions and ecosystems. You also have access to extremely fertile soil, making it perfect for ideal growing conditions.
The homesteading law leans in your favor as it clearly states your homestead gains protection from a financial crisis. Hence, you can get up to $100,000 as a means of creditor protection.
You can enjoy numerous outdoor activities to ensure you never get tired of the homestead life. From fishing, hunting, and whitewater rafting, there is fun for everyone in your family.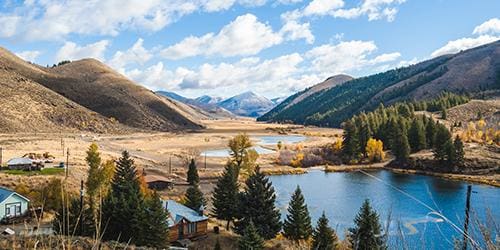 Oregon
Next to Montana, Oregon is another beautiful place to consider investing in and building a fascinating homestead. You have endless opportunities to take care of your farm here.
The growing conditions are one of a kind, and you have the option to grow a wide range of orchards, crops, and more with the incredibly fertile lands available. Not to mention, with all your organic produce, you can make up some extra income on it's the farmer's market. This gives your homestead the chance to turn into a profitable venture. The earnings are enough to satisfy you and your family all year round.
There are even homesteading towns, and you have the benefit of building more connections with people around you, seek advice and assistance whenever you need to.
The homesteading law provides a leverage of up to $50,000 for married couples, which is a great advantage.
Arkansas
If you want to start a homestead and are looking for a cheap option, Arkansas is your best bet. Besides being incredibly cheap, it has benefits like fertile soil, which is perfect for livestock grazing and growing fresh produce.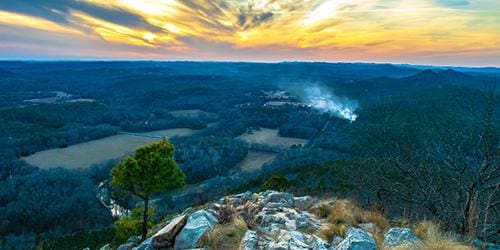 The country-friendly area also offers numerous outdoor activities, so you stay engaged all year-round. However, what sets Arkansas apart from all the other places is how economical it is. It is a great place to make up for an investment as it has a booming economy. The land is as cheap as approximately $0.07 per sq ft. Bear in mind the prices may differ greatly in terms of the location and can be quite competitive.
You may also like:
What To Do If You See A Bat On Your Homestead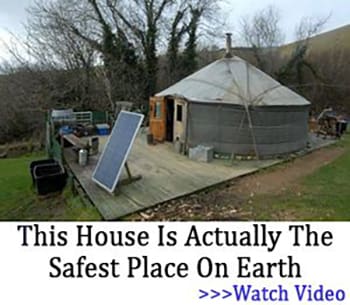 New Invention 12X More Efficient Than Solar Panels (Video)
The One Tree That Every Homesteader Should Plant
How to Build a Smokehouse In Your Backyard (with Pictures)
25 Wood Craft Projects You Should Have In Your Backyard
If You Have This Plant in Your Backyard, You Will Never Run Out of Soap