People have been filtering rainwater in barrels for over a century.
Collecting nutritious rainwater in a rain barrel from a roof, has many uses: from watering lawns, gardens, or indoor plants to doing laundry.
This process has many benefits. Collecting roof runoff in rain barrels reduces the amount of water that flows from your property. It is also a great way to conserve water for a relatively low cost of materials. Natural rainwater is best unfiltered for gardens. After all, it is filtered through solar distillation. However, for household use, filtered water is recommended.
This article explains an easy and cheap way to do just that in a few simple steps. This ensures one of the healthiest, cleanest water possible.
Step #1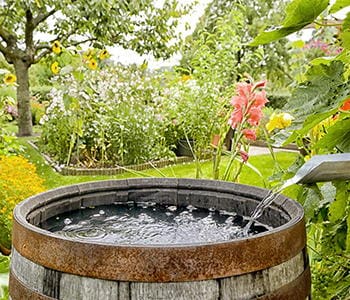 First, buy a new vinegar barrel or an oak tub that has not been used. Either a full cask or half-size works equally well. If you already have one that is laying around your garden it is even better.
Step #2
Stand the barrel or tub on its end and raise it from the ground, using several stones or bricks.
Step #3
Insert a faucet near the bottom of the cask. You will need to make a tight false bottom 3 or 4 inches from the cask bottom.
Step #4
Perforate the false bottom with gimlet holes and then cover it with a piece of clean white canvas.
Step #5
Place a layer of clean pebbles approximately 3-4 inches thick on the false bottom (See Step #4).
Step #6
Add a layer of clean-washed sand and gravel on top of the pebbles (See Step #5).
Related: Is It Legal To Harvest Rainwater In Your State?
Step #7
Add a layer of coarsely granulated charcoal (about the size of small peas) on top of the washed sand and gravel (See Step #6). Consider using hard maple charcoal.
Step #8
Pound down the charcoal (See Step #7) and put in more charcoal until the tub is filled about a foot from the top.
Step #9
Add a 3-inch layer of pebbles on top of the charcoal (See Steps #7-8).
Step #10
Use a piece of canvas or a net, as a strainer. (The canvas strainer can be washed and the cask dumped out, pebbles cleansed, and charcoal renewed once a year to ensure optimal filtering.)
Step #11
Explore different places and uses of the filter.
You might want to place the filter in a cellar to use strictly for drinking water. Or you may choose to save the filter and use it strictly in emergency situations like a drought so your crops don't dry out, your clothes can be washed, etc.
You could also consider using the filter when making vinegar. (Remember to remove the coarser particles by passing the cider through the cheesecloth first.)
Related: Rainwater Tank That Irrigates A Small Herb Garden
Making a filter for rainwater collected in a barrel is a great way to conserve water and it is also good for the environment.
The process of making a filter is quite easy and not expensive. The filter helps "filter" out any harmful contaminants such as pathogens and volatile chemicals to get the optimal use out of the rainwater.
Although filters have been used for rain barrels for over a century, they have not gone by the wayside. The use of rain barrels is becoming more and more popular.
Take time to make a filter for your rain barrel and, undoubtedly, there will be many places to put your filter to use!
You may also like:
New Invention 12X More Efficient Than Solar Panels (Video)
7 Mistakes To Avoid When Harvesting Rain Water
Ingenious Rain Catchment System For Your Homestead