I grew up on a dairy farm in central New Jersey. As a child, I didn't like all the work, but after moving at the age of 13 to the DC area, and into a fast food and both parents working lifestyle, I missed the farm.
My father left us when I was 1. My mother went to work and my farming grandparents helped raise me and 2 brothers.
Fast forward to present: I'm now 70 and live in a suburban neighborhood outside DC. It's a typical suburban neighborhood with lots of rules and regulations about what you can and can't do. I am now divorced and my son and his family of 7 moved in with me, after selling a home and buying a camper and going on the road for 6 months with 5 children. After the 6 months, they felt living in the camper was too much, and they wanted to be back in a house, so they moved in with me.
Related: 15 Things You Should Teach Your Children That Can Save Their Lives
My home is on 1/3 acre on a cul-de-sac. My yard backs up to woods, so no backyard neighbors. It's shaped like a slice of pie, small in the front yard and wider in the back. My son was already in the mindset of being self sufficient and was trying to convince me that the future was going to be different from the present and we needed to prepare for it. I wasn't so sure. But I liked the idea of growing some food in the yard.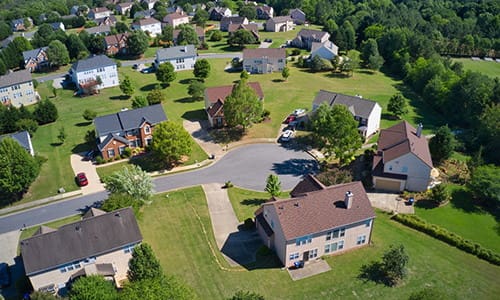 Luckily, my area has something called chipdrop. James (my son) arranged for a chipdrop, and a tree company came and dumped a 10 foot high pile of chips. We started hauling wood chips into the backyard, front yard and side yard. As time went on, the wood chips broke down and the earth underneath became soft and dark brown. In the backyard, on the north side, we put down cardboard and piled the wood chips on top and we added some metal stakes and put plastic green fencing around it.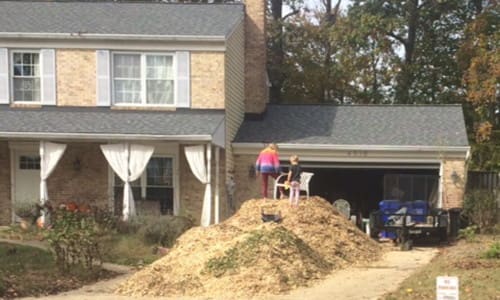 By the next spring, we planted carrots, beets, swiss chard, lettuce, squash, arugula, and kale.
A few feet away and up a slight incline, we began a compost pile. In the pile we put old hay from our rabbit cages. We added all of our kitchen scraps into it. Watermelon rinds, egg shells, apple cores, leftover salads, everything except meat.
Next to the compost pile is a homemade sand box, a large swing set, and a large trampoline (for my grandkids).
Related: The Ultimate Guide To Composting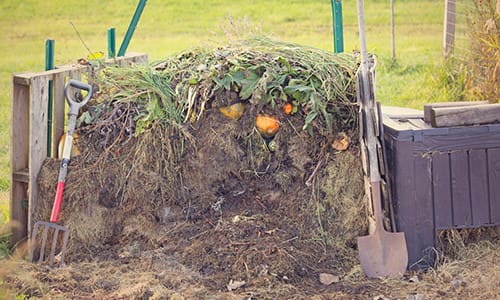 On a small hill behind the swing set is a mushroom garden. We planted wine cap mushrooms. They have not come up and I don't know why.
On the south side of the yard, we had an existing apple tree. It was 40 years old and I never really kept it pruned or mulched. It wasn't doing too well. James bought another apple tree and planted it next to the existing one, he pruned the 40 year old tree, and he used compost and wood chips on the bottom of both trees. Oh my goodness. The tree's appearance improved so much, and it is giving us apples that are really tasty. If I had been taking care of the tree all these years, like he took care of them, I would have had homemade applesauce every year. I could not believe it.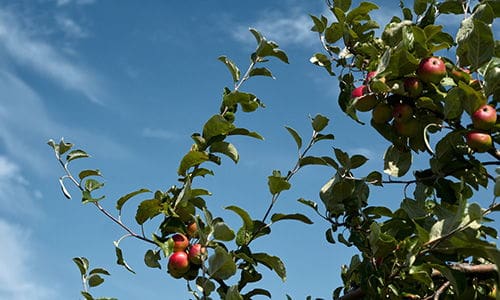 In the same vicinity as the apple trees, he planted black raspberries, and Jerusalem artichokes. On the south side of the front yard, we put up some hog panels, and planted a butterfly bush, yard long beans, and some delicata squash. In the front yard, my son put lots of wood chips and only left a small circle of grass to mow. Every other portion of the front yard had wood chips and we planted more food. We planted a herb garden, and lots of wild flower plants, like black eyed susan, coneflower, yarrow, nasturtium, kale, strawberries and lavender. We chose pollinator plants that are native to our area, to attract butterflies and bees. And on the north side of the front yard, we planted sunflowers, more squash, and pumpkins. It looks better than anyone's yard with grass growing.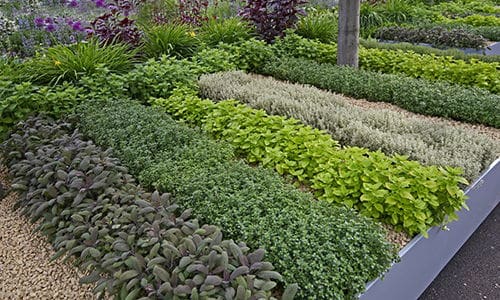 One of our neighbors came over and said he was worried that our front yard garden would attract snakes. We told him that he needn't worry, because the snakes will stay in our yard, and leave his yard alone. Not sure if he appreciated it or not. But he's been pretty friendly ever since.
Related: How To Live Next To A Neighbor Who Doesn't Share Your Political Views
We are not supposed to have chickens in our neighborhood, but we built a chicken coop with a run attached. And we got 5 hens. After having an awful predator attack on our chickens where only 1 survived, we changed the layout of our chicken run and ran hardware cloth down several inches around the run. From that time on, our chickens have been safe from predators. They free range in daytime, and if we leave, they go in the run and the coop at night. It's true, chickens do put themselves to bed. We liked them and we also included the straw from the coop into our compost pile.
We did good for about 1 year, and the next year, we got lax and didn't keep up with the vegetable garden, but we did plant a few things. Between homeschooling 5 kids, and working, the garden just had to take a back seat.
For 8 people, we are living on not so much money. We want to find more ways to save. We do have a wood stove, and lots of firewood. My son says the wood warms him 3 times, when he cuts it, when he stacks it, and when he burns it.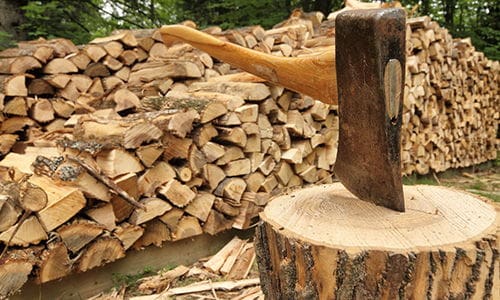 We trade clothing for the kids, we cook large meals every 2 or 3 days and have leftovers the next day, we like soups, pizza, tacos, we ferment some food like fermented carrots. We store some food, but not nearly as much as want to. Our largest bills are food, water, and electric in summer.
We have not invested in solar as we put a new roof on before a solar system company came to our area. And that was a pretty big cost, over 10k.
We can't move right now, it's just too much to think about. But we love the homesteading lifestyle and need to figure it out more on our limited resources.
I have been a frugal person since childhood. Living on a farm, instilled valuable skills in me. I hang my laundry up to dry. I don't use a dryer. I have limited clothing.
I learned a long time ago, that when I buy little trinket type of stuff, I end up not wanting to dust it or move it around, so I stopped buying anything I don't need. It satisfies me to buy something one day, and the next day I would not care about it any longer, and want to buy something new.
I am glad I learned a frugal lifestyle at an early age. I don't want to change that for anything.
You may also like:
10 Things Cowboys Carried with Them in the Wild West to Survive (Video)
15 Gardening Mistakes You're Making Right Now
Cheap Recipes To Keep You Well Fed In The Next Crisis