There are many reasons people are interested in homesteading.
They might want to own a piece of land, feel freedom in wide-open spaces, or start a new way of life. For me, it was the dream of owning land on a beloved childhood lake and passing on the beauty and value of homesteading to our children.
Little did I know that homesteading is much more than purchasing the land or planting vegetables and even building that hen house to raise a few chickens.
Hopefully, these tips will be helpful as you embark on your homesteading journey.
Research
No one knows everything. Repeat after me: No one knows everything.
For example, if you plan to garden, find out which vegetables grow in your area, the best time for planting and harvesting, what constitutes quality soil, the right equipment needed, and so on.
And if you are determined to raise chickens, you will need to decide what chicken breeds to raise (egg laying, meat producing, or a dual purpose), what age to start with, and know such things as how to build a chicken coop, the space needed, what makes a comfortable temperature and a place to roost, and have knowledge about security, food, water, etc.
Be open to reading great books and online articles and blogs, attending seminars, taking classes, joining Facebook groups, exploring blogs, and asking questions to other homesteaders.
Before planting a vegetable garden on our newly acquired property, I studied about the different types of fencing needed so the deer and rabbits wouldn't be able to enjoy their daily feasts at the expense of our crops, took two online classes on northern Wisconsin gardening, and read every book and article I could get my hands on.
I enjoyed talking to the local seed company and was excited to finally purchase various seeds. Even with all of this, in my excitement to plant the seeds (a little bit too early I now know), the temperatures dropped and the seedlings froze. Needless to say, I needed to replant everything.
The next year, I waited a little longer to plant the seeds. With each year since, we have tweaked many things like the vegetables that were planted, the watering system used, and how we could compost nutrient-rich soil.
There is still so much more to learn but I have continued confidence in my ability to grow an abundance of vegetables to eat and share all year round.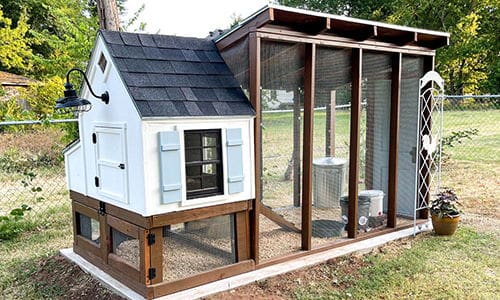 Don't Do Everything At Once
Sixteen years ago, we purchased an old logging cabin on an acre of forested land with spring-fed lake access in northern Wisconsin. It was the lake that my father had purchased a cottage on when I was growing up. It took our entire savings and investments along with years of looking.
There was so much to do from the seven different colors of paneled rooms (including dark green) to the damaged plastic garage doors and capped stone fireplace and dark wooden floors beneath the glued stained carpet.
With vision, a lot of hard work and sweat, and friends and family, we worked to make the cabin a piece of our soul. It's hard to explain the work that was done, but each year we have a "to-do" list to keep our property in good condition and to see new ideas come to fruition.
From that first spring when the inside paneling (all one color, I may add) was painted a muted beige through today, work continues and progress is made.
Related: My Day As A Homesteader During Winter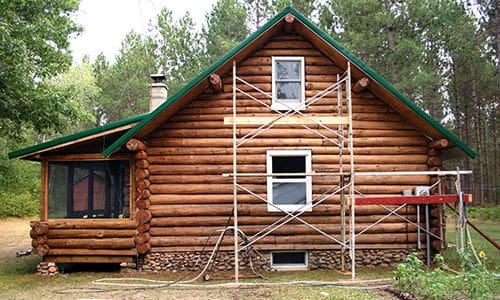 Nothing Is Perfect
I remember taking a summer class "How to Become a Millionaire" at the Christa McAuliffe Academy. Our teacher encouraged the students to take a plunge into something they always wanted.
That's when I began an active search to find property on Thunder Lake, Crivitz, WI. I wrote letters to the owners around the lake after accessing the property records and told them what the lake meant to me when I was growing up. To my surprise, I had several owners call me.
That's how the cabin now nicknamed Haven Hill came to be ours and how my older brother purchased a nearby cabin for our mother who shared fond memories of Thunder Lake.
As I mentioned earlier, it was the only land and cabin my husband and I could afford at that time. The homestead wasn't perfect. The well had to be shared with the neighboring property and there wasn't direct waterfront access, only shared access.
The screened porch looked well beyond its 100 years. Little did I know, that several years later, we were able to buy the adjacent hill property doubling the acreage overlooking the lake with lake access (to keep two kayaks and a sailboat) and we put in a new well on our property (no longer shared) for both properties (now ours).
Two summers ago, my husband and I were able to repair the screened porch ourselves complete with new screens, a large glass window facing the lake, and a brand-new roof to match the main cabin.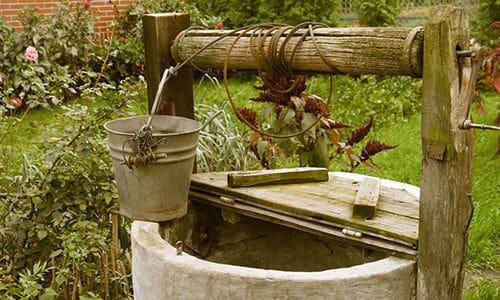 Have Clear Goals
With so much to do, it is wise to pinpoint your goals so you can move forward. Our goals this year are to expand the vegetable garden, build a larger chicken coop, and study beekeeping in preparation for purchasing some beehives next spring.
Since I continue to learn more about vegetable gardening, I want to double the amount of garden space and explore planting new vegetables.
I have always been interested in raising chickens after working with a client on a children's book about raising chickens. Now, I want to build a larger chicken coop and increase the number of hens.
And I have been reading a lot about beekeeping and honey. At the base of the hill, there is ample room for beehives.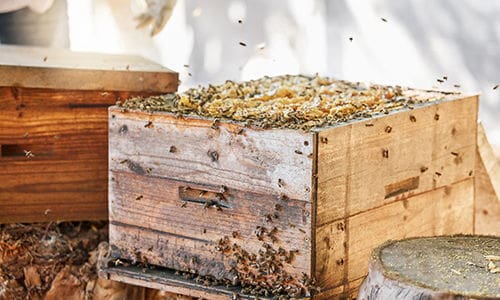 Without setting clear goals, homesteading (as with most other things in life) can pull you in a million different directions. It may also leave you exhausted and feeling that you just did not accomplish what you wanted. Having goals will also help direct your decisions of what to buy and consume, how to spend your money, which animals and crops to raise, and what to do with your time.
I've learned a lot on my journey of homesteading. Maybe you will begin homesteading or start a few new projects. It is so much more than just a garden or a farm. It's helped me fulfill a dream and guided me toward goals of self-sustainability and self-reliance with a dose of simplicity.
I have learned to grow lettuce that tops the best restaurants, turn my hens into friends, and reroof and rescreen the sunroom. I have learned, too, that with knowledge, patience, perseverance, and goal-setting, homesteading can become a wonderful experience and a lifestyle worth pursuing.
You may also like: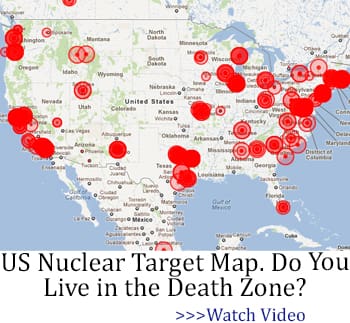 The Best Chicken Breeds for Your Homestead
What Our Forefathers Did and Built Around the House (Video)
Homesteading To Do's: February
Top 6 Best Egg-Laying Chicken Breeds