One of the most useful items that is a part of my life is a bucket.
From time immemorial buckets have been around. The humorous song that most of us are familiar with "There's a hole in the bucket, dear Liza" shows the importance of the bucket. Henry couldn't do anything without the bucket!
When it comes to storing grains, liquids, to planting, most of us reach out for a bucket. The practical uses are numerous, but in this article I will be listing 35 ingenious uses of buckets. This is to give an idea of the multiple uses of a bucket, instead of discarding it.
As homesteaders, we all look forward to the most cost effective and practical ways to do our part on this planet. Buckets come in a variety of materials. Using them purely for storage then requires that you be aware of what the bucket held previously.
Know What Food Grade Buckets Are
The most commonly used High Density Poly Ethylene Food Grade (HDPE) is a thermoplastic polymer made from petroleum. While this type is used for food grade storage, there are many other different types of buckets.
The most versatile plastic known as HDPE Food Grade is what is used for milk bottles, cutting boards , shampoo bottles and many other things are made from this.
Storing in food grade buckets will give your food a very long shelf life. The best part is, it can be reused as many times as you want.
Before I list out the ingenious uses of buckets, I want to mention that you can try to acquire empty buckets for free from: restaurants, shops, friends or family members, grocery stores, bakeries, delis, coffee shops.
There are many places that sell fresh food and you might check if they have food-grade buckets that they won't be needing. This way you won't have to spend much and sometimes you would be able to get them for free.
35 Ingenious Uses for Buckets
It is noteworthy to mention that having 5 Gallon buckets would be generally more useful depending on your needs.
1. Store leftover charcoal until next season
Related: This Is Why You Should Have Charcoal Around Your Property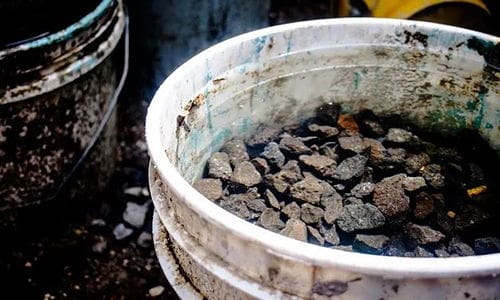 2. Make a plastic bag dispenser
3. Build a decorative pond
4. Build a composting toilet for your workshop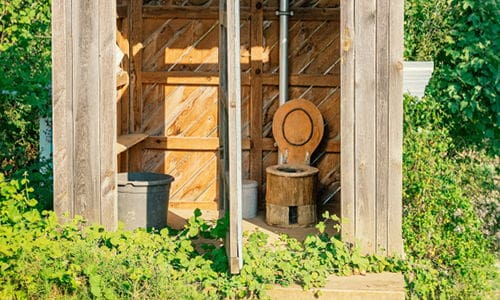 5. Make a bucket birdhouse
6. Make a DIY wishing well for kids
7. Build your own DIY umbrella stand
8. Build a hydroponic system from five-gallon buckets
Related: DIY Dutch Bucket Hydroponics System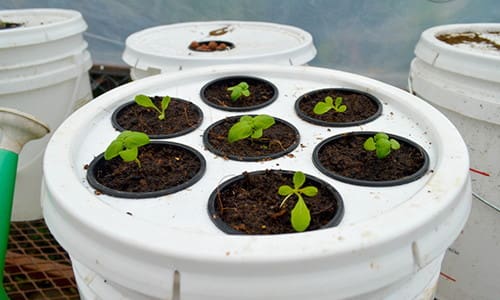 9. Make a Tool storage solution for a garage. All your tools can be stored in large buckets with the lid secured.
10. Make a bike stand with buckets. Your kids would love the idea of putting their bikes against it rather than leaving the bike flat in the ground.
11. Build your own bucket lamp for extra illumination
12. Build a DIY chicken feeder from a five-gallon bucket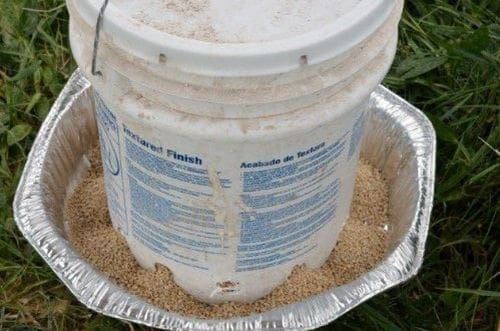 13. Make your own bucket stools. Using colorful paints and decorations. Colorful stools can get the attention of little kids.
14. Build a DIY five-gallon bucket hand cart
15. Make a water heater. A five-gallon bucket water heater can be used when you go camping.
16. Put together a five-gallon bucket emergency kit. This could include things such as first aid items.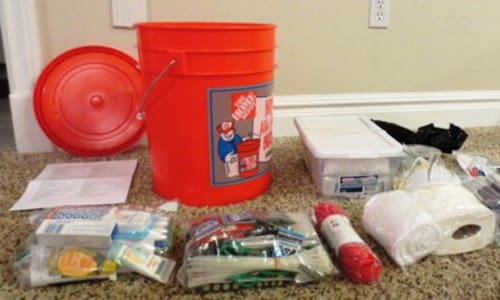 17. Burn documents not needed. Iron buckets can be used. It's easy to snuff it out and you can monitor it so it won't spread.
18. Decorate a bucket and use it as a piggy bank. You will be surprised how fast you can fill it up.
19. Use a bucket to wash clothes when you do not have electricity
Related: DIY Cheap & Portable Washing Machine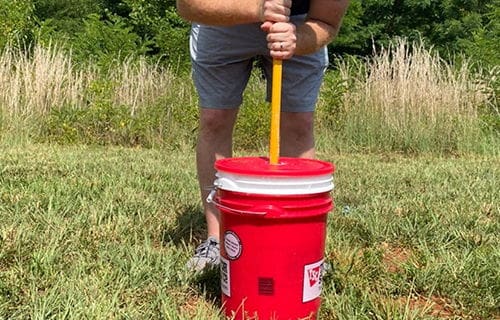 20. Build a Rocket Stove. With a metal bucket. It's easy specially when you go camping. Dry twigs can be used for this fire.
21. Crush your trash. If garbage collection companies become unreliable.
22. Fight Fire. When you don't have a fire extinguisher, use a bucket to pour water or sand on a small fire.
23. Harvest Rainwater
24. Grow Perennial Flowers. There are people who have created a garden in a bucket. This turns out beautiful when you have a mix of many types of flowers.
25. Make a Backpack. Attach straps to a bucket to turn it into a backpack. It is very useful while gathering food or supplies.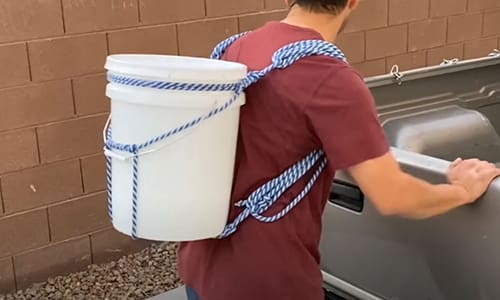 26. Make a Toilet for Home use. Kitty litter can be utilized. Put it into a 10-gallon trash bag and insert into the bucket. You can use a commode seat on top of it and you are good to go about your business.
27. Store Dry Supplies. Paper towels, toilet paper, tooth brushes , sanitary towels and even canned food items. You never know when the need will arise.
28. Take a Shower. All it takes is some PVC, a PVC ball valve, and a nozzle. With a low-flow nozzle. Caution is advised on used buckets. Check thoroughly prior.
29. Build a chicken coop watering system
Related: Do This For Your Chickens So They Lay More Eggs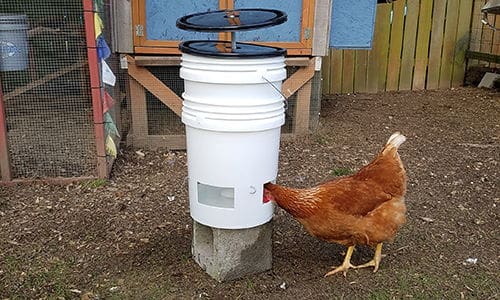 30. Store Fish. Plastic buckets are among the most practical tools for storing caught fish.
31. Do The Dishes. You can also just as easily use normal buckets to do the dishes as well. Simply pour warm water and soap into the buckets. Just make sure that the buckets are thoroughly clean beforehand.
32. Make a Water Filter
33. Storing ammunition. Ammunition needs to be stored in a very dry location and at room temperature. Make sure to first check all safety regulations and treat this as only a suggestion. Don't cramp up ammunition to save space as that could lead to dangerous explosions. Caution is advised.
34. Emergency Floats. Emergencies in the water can happen at any time. Nothing like having a bucket at hand attached to a rope (like a safety leash). It could save someone's life helping them to hang on to it and stay afloat. It can also be used as a buoy to make places that are too deep or dangerous.
35. Mouse trap
Many people don't realize that in the event of a long-term disaster, buckets come in handy. Once you read this , you'll never throw away a bucket.
Medical Disclaimer
This article is written as a DIY to help with being self-sufficient. Contents have been researched to help homesteaders. No responsibility will be taken on any unsafe or careless measures taken when using different types of used buckets. It is the sole responsibility of the individual.
Author Disclaimer
As adult homesteaders, the reader is responsible to check that using other materials would not create toxicity depending on what type of bucket is used. DIY methods are for the purpose of helping us to keep our costs low by doing it yours.
How do you use the buckets in your homestead? Let us know in the comments section below.
You may also like:
10 Things Cowboys Carried with Them in the Wild West to Survive (Video)
How to Survive a Summer Power Outage
The Best Fruit Trees to Grow in Five Gallon Buckets