If you've been considering growing potatoes, there's no time like the present. Potatoes are extremely nutritious, massively versatile, and a staple ingredient in many dishes. You can boil, mash, bake or chip them, and if you've got any leftovers, you can sell them. Growing your own potatoes is an inexpensive, and healthier alternative to buying them from the store. Here are some tips on how to grow your own potatoes.  
Types of Potatoes
There are over 200 varieties of potatoes; they come in many different shapes, sizes, and flavors. Here are some of the most popular:
Setanta Maincrop
This red-skinned, flavorful potato variety is great for making fluffy, delicious, roast potatoes with a crunchy outside.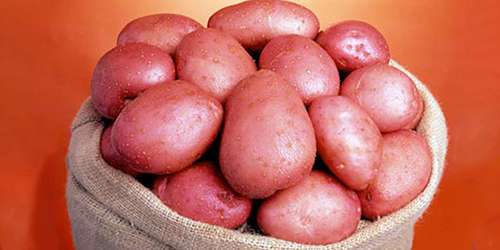 Abbot First Early
These potatoes are small and oval in shape when lifted early, making them perfect for salads. When left in the ground for longer, they grow bigger and make tasty potato chips or baked potatoes.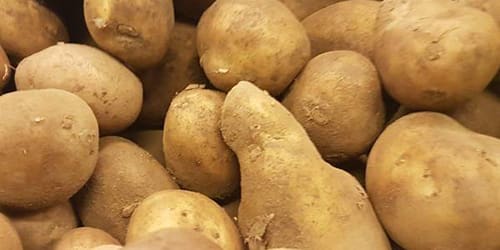 Maris Peer Second Early
With its yellow, creamy flesh, the Maris Peer has an excellent flavor and maintains its shape while cooking. They make perfect boiled potatoes that are good for salads.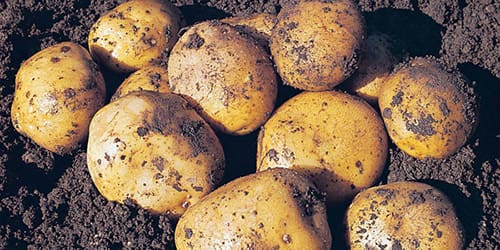 Cara Maincrop
The Cara Maincrop is a favorite amongst allotment growers because they are resistant against blight and eelworm, and they are resistant to drought. Their fluffy flesh and red eyes make them the perfect choice for chips or jacket potatoes.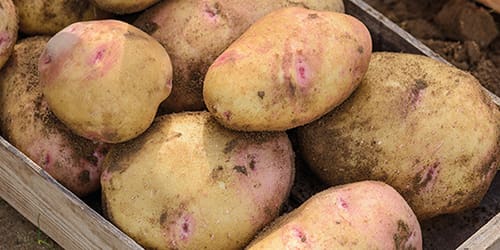 How to Grow Potatoes
Growing potatoes is a simple process and they need very little care. You will need to make sure the soil is always moist; they should receive between 1-2 inches of water per week. Once the tubers start to flower, water them four times per week. When the plants start withering and changing color, stop watering them for 1 to 2 weeks, this process allows the potatoes to cure.
The curing process toughens the skins and removes excess water so you can store them for long periods. During the final week of curing, cover the bed with waterproof, breathable tarp that allows light. Additionally, when it comes to watering potatoes, you'll also need to take into consideration the season, humidity, temperature, and the type of soil they are planted in. In general, potatoes grow best in well-drained, acidic, and fertile soil.
They will also need feeding and weeding; in particular, potatoes need nitrogen to flourish. You'll need to feed them once a week with a nitrogen-based fertilizer. You'll get many potatoes to harvest with just one seed potato. Here are the steps you should take to grow your own potatoes:
Get the soil ready by digging it up and pulling out any weeds.

Dig trenches in a straight line that is 60 cm apart, and 12 cm deep.

If planting during spring, they should be 30 cm apart, fill the trench with soil, and cover them.

Once the shoots reach 20 cm, use a spade, hoe, or rake to pile the soil around the base of the shoots, and cover the stems halfway. This process is referred to as, 'earthing up.'

You can grow first and second early potatoes in a large bag on a balcony or a patio, as they grow, cover them with compost.
The Companion Plants For Potatoes
You can improve the quality of your potatoes by growing them next to their favorite plants, here are some of them: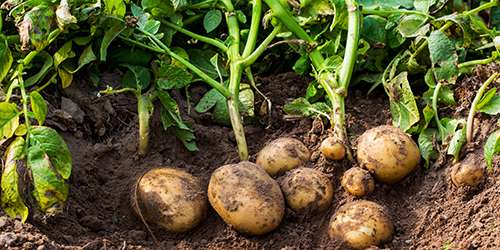 The Cabbage Family
These plants won't compete for nutrients or space with deep-rooted potatoes because they've got a shallow root system. Plants from the cabbage family include:
Cauliflower

Cabbage

Broccoli
Legumes and Beans
These plants release nitrogen into the soil which helps improve the crop quality and the yield of the potatoes. Plants from the legume and bean family include:
Green beans

Pole beans

Bush beans
Corn
Corn makes potatoes grow better and improves the flavor.
Plants to Keep Away From Potatoes
There are some plants that will restrict the growth of potatoes, these include the following:
The Nightshade Family
Diseases and pests spread easily amongst plants from the nightshade family, these include:
Tomatoes

Aubergines

Peppers
The Cucurbit Family
Their feeding and watering needs are similar to potatoes and will compete for their nutrients and water. Plants from the cucurbit family include:
Squash

Cucumbers

Melons

Squashes

Pumpkins
Carrots
Carrots are root crops, and they'll stunt the growth and development of potatoes.
Asparagus
They compete with potatoes and will stunt their growth.
Raspberries
They will increase the risk of potato diseases such as verticillium wilt, and blights.
Timeless Potato Recipes
There are some potato dishes that will never go out of style! Here are three simple, and quick recipes that the whole family will enjoy.
Shepherds Pie
Cooking Time: 1 hour 30 Minutes
Serves: 4 Servings
Ingredients
3 tablespoons of milk

85 grams of butter

900 grams of potatoes cut into chunks

500 ml of beef stock

2 tablespoons of tomato puree

500 grams of minced lamb

3 chopped medium carrots

1 large chopped onion

1 tablespoon of sunflower oil

2 tablespoons of Worcestershire sauce
Directions
In a medium-sized saucepan, heat the oil to medium temperature.

Add the carrots and onions, fry, and stir until they become soft.

Crumble the minced lamb into the saucepan and turn the temperature up to high. Cook the meat until it browns, pours out any excess fat.

Add the tomato puree and stir to combine.

Add the Worcestershire sauce, stir to combine, and leave the ingredients to cook for 10 minutes.

Add the beef stock, turn the temperature down to low and leave the ingredients to simmer for 40 minutes.

Prepare the oven by heating it to 400 degrees F.

Boil the potatoes in salty water until they become tender; this should take around 15 minutes.

Drain the water from the potatoes, add the milk and the butter and combine with a potato masher.

Pour the mince mixture into an oven-proof dish.

Scoop the mashed potato over the top and rake with a fork.

Bake for 25 minutes until the potato starts to brown, and the mince starts to bubble through the sides.

Remove the shepherds pie from the oven and leave it to cool down before serving.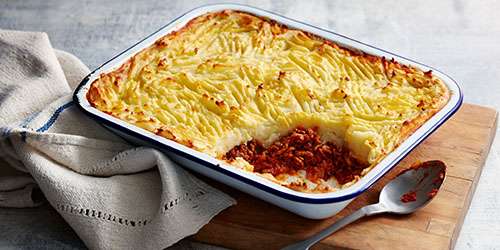 Pot Roast
Cooking Time: 3 hours
Serves: 6 servings
Ingredients
Fresh parsley

¾ pound of potatoes cut in half

6 sprigs of fresh thyme

3 large carrots peeled and chopped into large pieces

1 cup of red wine

2 cups of beef broth

1 tablespoon of brown sugar

2 tablespoons of tomato paste

6 cloves of roughly chopped garlic

1 large onion thickly sliced

2 tablespoons of olive oil

1 teaspoon of Italian seasoning

1 teaspoon of freshly cracked black pepper

2 tablespoons of kosher salt

4 pounds of boneless chuck roast
Directions
Prepare the oven by heating it to 350 degrees F.

Season the roast with Italian seasoning, salt, and pepper.

Heat the olive oil in a large Dutch oven on a cooker over medium temperature.

Add the roast to the Dutch oven, brown, remove from the oven and set it to one side.

Add the onions and cook for 4 minutes.

Add the garlic and cook for 1 minute.

Use some beef broth to deglaze the pan in the bottom starts to browning.

Add the tomato paste, brown sugar, and stir to combine.

Add the wine, thyme, beef broth, roast, and stir to combine.

Cook at a medium temperature until the liquid has reduced slightly.

Put a lid on the Dutch oven and put it in the oven for 90 minutes.

Take the roast out of the oven, add the carrots and potatoes, put it back in the oven, and roast for another 1 hour.

When the meat is falling off the bone, the roast is ready.

Take the Dutch oven out, leave the roast to cool down for 5 minutes before serving.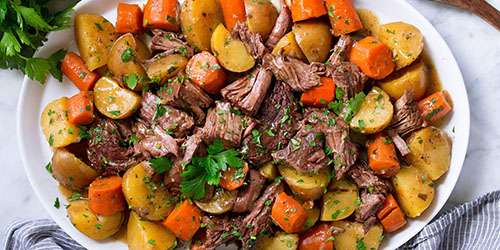 Toad in the Hole
Cooking Time: 1 hour 30 minutes
Serves: 6 servings
Ingredients
6 large eggs

1 cup of chopped beef

Black pepper, freshly ground

Kosher salt

1 teaspoon of dried oregano

3 large potatoes, sliced into cubes

1 chopped bell pepper

1 large chopped onion

3 tablespoons of extra virgin olive oil
Directions
Prepare the oven by heating it to 400 degrees F.

In a large oven-proof frying pan, heat the oil over medium temperature.

Add the bell pepper and the onion and cook until they soften.

Add the potatoes, salt, pepper, and oregano stir to combine, and cook for 20 minutes until the potatoes become tender.

Add the corned beef and cook until it turns crispy.

Use the back of a spoon to make 6 wells in the hash.

Crack one egg into each well.

Sprinkle salt and pepper over the eggs.

Put the frying pan in the oven and bake until the whites are set, this should take around 8 minutes.

Remove the hash from the oven, leave it to cool down for 5 minutes and then serve.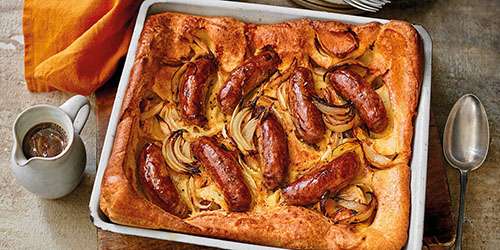 Final Thoughts
Nothing beats the earthy taste of freshly dug homegrown potatoes, and with such a wide variety, there's something for everyone. Follow the tips above and have enough potatoes to enjoy all year round.
You may also like: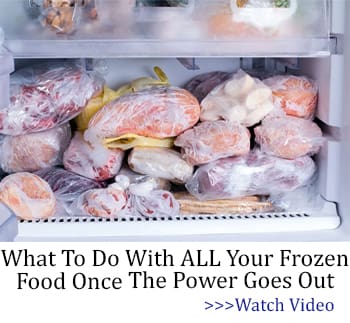 If You See This Plant In Your Backyard, Don't Step On It (Video)
8 Best Natural Ways To Stop Slugs And Snails From Destroying Your Plants
Why You Should Raise Ducks Instead Of Chickens