For a long time, Amish recipes were as secret and hidden as the communities that they came from. You asked one of the wonderful matrons for her recipes and she would give you a tender, grandmotherly frown and shake her head.
…But she'd certainly load you down with good food to take home.
Thankfully, as we've all become a lot more interconnected over the years, the Amish have become a little more easy-going about sharing their recipes and their tricks and tips in the kitchen. Today we'll be looking at six wonderful Amish recipes that every homesteader should know; primarily to keep your bills low and your tummy full! Let's get going.
Breakfast Root Vegetable Fry-Ups
1 cup all-purpose flour

2 and 1/2 teaspoons baking powder

1/2 teaspoon salt

1/4 teaspoon black pepper

1/4 cup cornmeal (omit if using instant potatoes for this)

2 1/2 cups chopped onions, potatoes, turnips, or carrots- whatever extra root veggies you have. This also works for zukes!

3/4 to 1 cup of milk; use full fat if you can

1/2 cup butter, oil, or lard (if you have it laying around, we suggest avoiding solid Crisco vegetable fat as it tends to make this a little thick)
Mix your dry ingredients together, ideally sifting them as one. If they seem as though they aren't fully incorporated, run a fork through them. Toss in your root vegetables, then add your milk. Mix well.
Put your oil/butter in a heavy-bottomed skillet and heat until a drop of the mixture bubbles rapidly. Add by flattened spoonfuls and cook until golden brown. Drain these on a baking rack or a paper towel-lined plate. This makes approximately 10 and 2 will fill up most people next to a couple of eggs. Replace your hashbrowns with these! May last overnight in the fridge but will be squishy.
Red Meat, Cabbage, and Potatoes
2 pounds ground or cubed red meat (pork, beef, venison, lamb; it all works)

1 onion, chopped

4 garlic cloves, peeled and finely chopped

1, 3 pound head green cabbage, diced

8 red potatoes, diced

1 package of your favorite sliced cheese (or freshly made farmer's cheese)

2 cups whole milk

4 tablespoons butter

 

Salt and Pepper as needed
Cook ground or cubed meat with onions and garlic until done. In a 3-quart oven-safe baking dish, place 1/2 of the cabbage on the bottom of the dish. Add potatoes as the next layer, then layer your cheese on top of this. Add your meat mixture to the top of the cheese, then add another layer of cabbage on top of that, and potatoes to the very top of your casserole. If you wish, you can add another layer of cheese, but we prefer to use butter. Either melts your butter and spoon it over the top of your potatoes or slice it into bits and sprinkle it across the top. Pour your milk over the entire thing and place in a 350F degree oven for 1.5 hours, If the potatoes are not finished cooking, bake for another 1/2 hour. If potatoes get done faster, feel free to place tin foil over them to prevent them from getting too crisp. Lasts about 5 days in the fridge.
Amish Friendship Bread (without the starter!)
1 and 1/2 cups sugar

1 cup melted butter

2 large eggs, room temperature

1 and 1/2 cups buttermilk (with a little extra on the side just in case)

3.5 cups flour, all-purpose not self-rising

1 and 7/8ths tsp baking soda

1 cup sugar (for filling)

1/4 cup cinnamon
Mix 1 cup sugar and 1/4 cup cinnamon together in a small bowl. Set aside. You can also use pre-mixed cinnamon sugar for this if preferred.
Beat eggs into sugar, then add the butter slowly until fully incorporated. Add buttermilk all at once, then flour and baking soda. The batter should be a thick pancake batter or thicker; if so thick that it is coming off the edge of the bowl, add more buttermilk. Using disposable loaf pans, pour each 1/4th of the way full. Sprinkle the cinnamon-sugar mixture in the middle, then top with 1/4 more of the batter in each disposable loaf pan (makes 2 whole loaf pans). Sprinkle more cinnamon sugar on top of the batter, reserving a bit for what will come out of the oven. Place loaf pans in the oven for 45-ish minutes at 350F degrees. Check the bread at 40 minutes and bake until a knife inserted in the middle comes out clean. Allow bread to cool for up to an hour in their pans before tipping them out to fully cool on a wire baking rack. Sprinkle with remaining cinnamon sugar and enjoy! Lasts approximately a week on the counter or a week and a half in the fridge.
Stick To Your Ribs Chicken and Dumplings
Soup Base
10 cups of chicken stock

4 ribs worth of diced celery

1-3 pounds of pre-cooked chicken (whatever you have around works, including pre-cooked frozen)

1 diced white onion

3 carrots, diced

1 cup of cornstarch (kept off to the side to thicken the stock as needed)

1/2 garlic clove, minced very fine

Note: Feel free to add additional herbs, spices, and root vegetables as desired. This is very much a "dump it all in" recipe.
Dumplings
4 cups flour

3 eggs

1/2 teaspoon salt

whole milk as necessary
Making the Dumplings
Add all ingredients to a mixing bowl other than the whole milk. Stir until well combined, then add milk slowly to form a ball of dough that pulls away from the sides of the bowl. Turn out onto a floured countertop and roll out to 1/4″ thick, then cut square dumplings.
Making the Soup
Add all ingredients to a stock pot and bring to a rolling boil. When the onions and carrots are soft to the prick of a fork, add your dumplings one at a time. Allow this to cook at a simmer for 20-25 minutes until the dumplings are firm. Add cornstarch as necessary to thicken the broth to your preference.
Lasts about 3 days, maybe 4, depending on your fridge settings.
Amish Lemon Bars
Cake
1.5 cup all-purpose flour

1 stick room temperature (soft) butter (do not melt)

1/3rd cup confectioner's sugar
Lemony Goodness
2 eggs that have already been scrambled

1/4 cup lemon juice OR the zest of two whole lemons

1 cup sugar

1 tablespoon all-purpose flour

1 teaspoon baking powder
Pour all cake ingredients together and mix until they look much like a graham cracker crust. Press the mixture into a disposable 8×8 tin and bake at 350F degrees for 12 minutes. If it does not look like a crust, give it another few minutes in the oven. While that bakes, combine all "lemony goodness" ingredients and mix until smooth. Pull the cake portion out of the oven, pour the lemon mixture over it and smooth it out, then return to the oven for 20-25 minutes. Once cooled, cut the bars as desired. Lasts 2 weeks in the fridge or 3-4 days on the counter.
Simple Church Punch
1 64 oz bottle grape juice

1 32 oz bottle of apple juice

1 frozen orange juice concentrate

1/2 cup of sugar

 several slices of fresh lemon

 several slices of fresh lime  

 a 2 liter of ginger ale or carbonated water
Mix all ingredients together and stir until sugar is fully dissolved. You can also use sugar cubes in the cups instead of sugar in the drink so that others may customize it to their preferences. Should be prepared for immediate consumption.
I hope you've enjoyed this sampling of Amish recipes. Leave a comment below letting me know which ones are your favorites after trying them all!
You may also like:
Cheap Recipes To Keep You Well Fed In The Next Crisis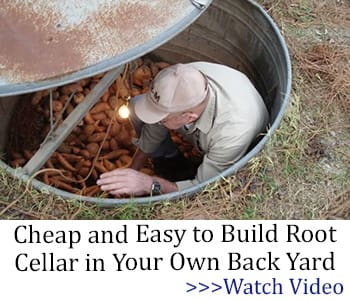 100+ Long Lasting Foods that Can be Stored Without Refrigeration (Video)
Meat Prices are SKYROCKETING. Here's How to Get Ready
Livestock Animals You Should Start Raising For The Upcoming Economic Crisis