In the modern world, it is easy to assume that everyone has access, or has chosen to have a fridge in their kitchen…
However, there are many situations that may prohibit, or force you to go fridge-less in your life. For example, there might be a power shortage in your neighborhood, or you simply don't want to spend money on the electricity if you barely use it!
Even though living without a fridge makes some things harder, like hot climates, that lead to high temperatures in the kitchen that can make it hard to store food, that doesn't mean it is impossible to live fridge-less. In fact, it just forces us to get more creative about cooking and coming up with DIY storage solutions.
In this article, we will be providing 5 fridge-less recipes to try out at home.
Firstly, a delicious pasta called, 'Pasta Puttanesca' that has all the ingredients to boost your immune system and keep you healthy…
Ingredients:
1 lb. dried spaghetti or other pasta

5 cloves garlic, pressed

1/2 t. red pepper flakes

1 t. salt or to taste

1/2 t. pepper

1/3 c. extra-virgin olive oil

1 28-oz. can chopped tomatoes

1/2 c. pitted Kalamata olives

2 t. drained capers

Pinch sugar

3/4 c. coarsely chopped fresh basil
Method
Cook pasta in boiling water (add a little salt).

Meanwhile, cook garlic, red pepper flakes, salt and pepper in oil in a large pan over medium heat for around 2 minutes.

Add tomatoes, olives and capers to the pan. Simmer until pasta is ready, then add the sugar.

Drain pasta and add to the pan with other ingredients. Turn with tongs until pasta is well mixed, and sprinkle a little basil on top.
If you are worried about getting enough protein, especially if you can't store meat or fish, then we have the perfect solution, 'Curried Fried Rice With Beef Jerky'…
Ingredients:
1 cup long-grain rice, rinsed and drained

1/2 cups water, plus 2 1/2 cups boiling water

3 ounces beef jerky, cut into 1-inch pieces

1 large dried tree ear mushroom or 4 dried shiitake mushrooms

1/2 tablespoons vegetable oil

1 small onion, finely chopped

1/2 small sweet potato or 1 medium carrot, cut into 1/2 -inch pieces

One 1-inch piece of fresh ginger, peeled and minced

1/2 teaspoons curry powder

1/2 cup toasted whole almonds

1 tablespoon soy sauce

Salt

1 scallion, thinly sliced
Method
In a medium saucepan, combine the rice with 1/2 cups of water and bring to a boil. Cover the saucepan, and cook over low heat for 12 minutes. Then, remove from the heat and let stand, covered, for 5 minutes. Uncover, stir the rice and let it cool.

Meanwhile, in a medium bowl, pour 2 cups of the boiling water over the beef jerky. Cover and leave it for about 30 minutes. Drain the jerky and chop it finely.

In a small bowl, cover the tree ear mushroom with the remaining 1/2 cup of boiling water and let it stand until softened for about 10 minutes. Drain and chop the tree ear into 1-inch pieces; using shiitakes, discard the stems and chop the caps.

Heat the oil in a large pan. Add the onion, sweet potato and ginger and cook over low heat, stirring, until the onion is softened for about 4 minutes. Add the curry powder and cook, stirring, for about 2 minutes. Raise the heat to high and add the beef jerky, tree ears and almonds. Stir-fry until heated all the way through. Add the rice and soy sauce and stir-fry to break up the rice and heat it through completely. Season with salt, stir it all together, and serve.
In the winter months we all tend to crave something warm, so here is a warming, easy red lentil dhal to enjoy from the comfort of your own home!
Ingredients:
2 ½ cups red lentils

5-6 cups of water

2 tablespoons curry paste

½ cup coconut milk

⅓ cup water

½ teaspoons salt

¼ teaspoon black pepper

¼ teaspoon cayenne

2 teaspoons curry powder

½ teaspoon turmeric

1 teaspoon chili powder

2 tablespoons sugar

lime juice

green herbs for garnish (Lindsay used malunggay leaves – you could use cilantro, green onions, etc.)
Method
Bring the water to boil in a large pot.

Add lentils and cook uncovered for around 10 minutes, stirring every few minutes to prevent burning on the bottom. Remove from heat.

Stir in remaining ingredients until they are completely mixed together, season with additional salt and herbs for garnish.
And for those nights when you want to curl up with a creamy pasta on your couch and kick back…here is a recipe for 'Creamy Pasta With Crispy Salami'
Ingredients:
3 eggs

1 cup grated Parmesan cheese

4 ounces salami

Olive oil

3 crushed garlic cloves

3/4 pound spaghetti

Salt and pepper

Chopped parsley
Method
To begin, whisk together eggs and Parmesan in a large bowl.

Cut salami into 1/2-inch strips (small slices). Heat a pan over medium-high, then coat with olive oil until sizzling. Cook salami and garlic until salami is crisp and cooked through.

Cook spaghetti; before draining, reserve 1 cup pasta water.

Add hot pasta to the egg mixture, along with garlic and half the salami (already cooked). Toss, adding enough pasta water to coat pasta in a creamy sauce.

Season with salt and pepper, and serve topped with a sprinkle of parsley and remaining salami.
Now, just because you don't have a fridge doesn't mean you can't be adventurous with some Brazilian inspired cuisine…so we have a recipe for 'Akara (Acarajé)'
Ingredients:
2 c. dried black-eyed peas

½ c. dried shrimp

1 medium onion

coarse salt

palm oil for frying
Method
Place peas in a bowl, cover with water and soak overnight. Drain and rub off the skins the next day.

In a separate bowl, cover shrimp with water and soak for 20 minutes. Then, drain them.

In a food processor, grind peas, shrimp and onion together (add some salt for flavor!).

Heat oil in a heavy-bottomed pan over medium heat and drop in 1 tablespoon of bean purée for each fritter. Fry fritters until golden brown, drain and serve.
You may also like:
How to Keep Eggs Fresh for Months with Mineral Oil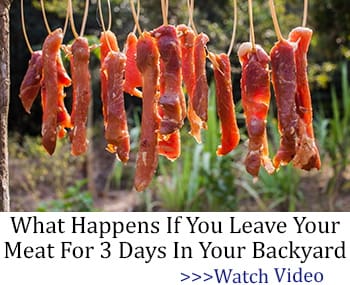 10 Things Cowboys Carried with Them in the Wild West to Survive (Video)
How to Build a Smokehouse In Your Backyard (with Pictures)
18 Plants That Should Never Be Planted Together
If You Have This Plant in Your Backyard, You Will Never Run Out of Soap