Are you struggling to grow your garden crops, and despite months of efforts, still unable to fill your plate?
That's the case with traditional garden crops; even after a lot of hard work, you only receive small amounts. I faced this problem myself but couldn't know the best alternative until I attended a magical giant crop festival and found the idea interesting.
That day I decided to switch my regular kitchen garden into a giant crop garden. Luckily, growing these giant edible crops proved to be more convenient and rewarding for me. By planting only a few of them, I was able to produce double the amount of food.
So, if you are also looking for easier, more rewarding, and low-maintenance alternatives, try growing these massive crops in your backyard. In this article, I have listed ten cheap and easy-growing giant crops.
So, read on to set up your own giant kitchen garden.
Giant edible crops are not only tasty but also have some unique shapes and sizes, making them a complete package that will get you both praise and some yummy home-grown crops. My family and I enjoyed these amazing crops and their large yields, and I want the same for you too!
Big Daddy Onions
Also referred to as the 'Canon Ball,' Big Daddy Onions are giant, flavorful, and disease-resistant Spanish Onions.
This vegetable has a 10-month storage capacity and a natural resistance to fight drought and frost. Hence, Big Daddy Onions can give you a yield that lasts months.
The Big Daddy Onions were the perfect crops for my climatic conditions. They just need about 6 hours of sunlight, a moderate amount of water, and only a small amount of fertilizer. Personally, I love almost everything about onions, from onion sauce to cooking onions with my steak. And I have done it all with these onions.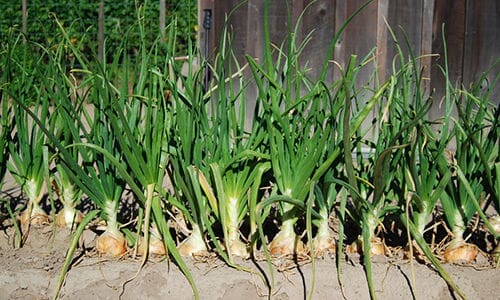 Giant Turkish Garlic
If you love the hot garlicky touch on your favorite foods, then try growing the Giant Turkish Garlic in your backyard. Evident by its name, the Giant Turkish is a large purple-colored garlic with a uniquely hot and earthy flavor.
In contrast to most other types of garlic, Giant Turkish garlic is hotter and muskier in taste and is loved by everyone in my family. This crop was both easy to grow and disease resistant, which makes it an excellent choice for beginners with little or no experience.
Related: How To Make Pickled Garlic (And Why You Should Do It)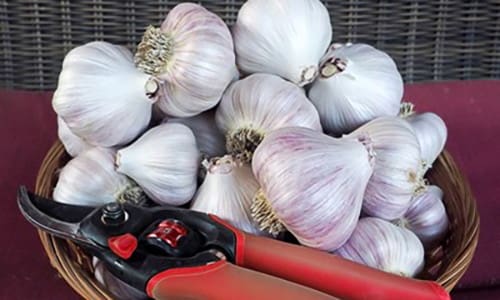 Superschmelz Kohlrabi
Superschmelz Kohlrabi is my list's most compatible and fastest-growing crop, and I think every home garden should have it. It takes Kohlrabi just 7 to 10 weeks to grow completely. Interestingly, you can grow giant Kohlrabi alongside other backyard crops, such as onions, celery, cucumber, etc.
It can be a great addition to your salads and dressings. And you can directly harvest, clean, and grate this crop into different foods.
Apart from offering great nutritional benefits, the Superschmelz Kohlrabi, with its unique leaves, made my garden look a lot more attractive.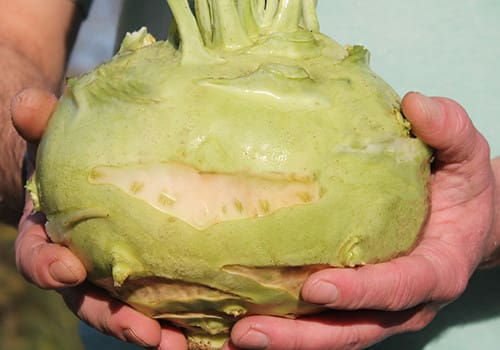 Fordhook Giant Swiss Chard
Do you want your home garden to look greener? Try growing Fordhook Giant Swiss Chards. It's famous for its green texture leaf and white stem. This Giant Swiss Chard grows longer than a foot, with its leaves measuring over 2 feet.
It is a rich source of Vitamin A, Vitamin C, potassium, magnesium, and iron. I added these sweet crops into different foods such as stews, soups, and even salads. And the best part? They all tasted amazing.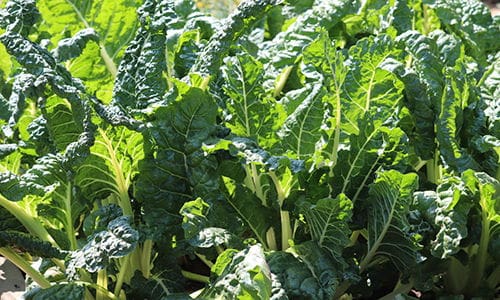 Black Beauty Eggplant
With its shiny, black, and glossy look, the Black Beauty Eggplant is a visual standout rich in nutritional value. It can grow as long as 30 inches. However, most of them are fully grown at about 6 to 8 inches and can still hold around 2 to 3 pounds of fruit.
Apart from that, its creamy white flesh will need a little bit of your attention, a lot of sunlight, and an adequate space to grow.
Not as easy as growing the Chards or other leafy greens on this list, the large yields you get from your Black Beauty Eggplant will surely give you a feeling of satisfaction.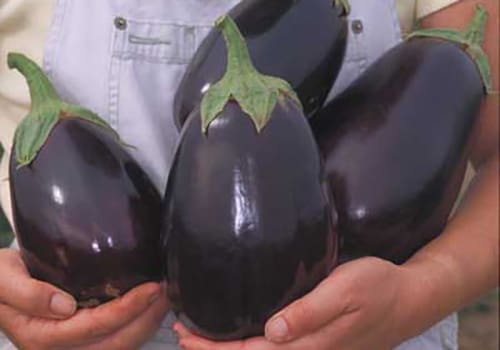 Giant Marconi Pepper
If you are thinking of growing peppers and chilies, then try planting Giant Marconi Pepper. It's a unique chili-shaped pepper that's red in color and looks almost as if it were a chili. Once fully grown, I was even able to fool people by telling them that I was growing extra-large chilies.
The Giant Marconi Pepper, with a bright red color and smoky-sweet flavor, is not just an amazing addition to your garden but also to some of the tastiest Italian dishes. Additionally, by just paying a little attention to its water requirements, you will be able to easily produce large yields of giant peppers.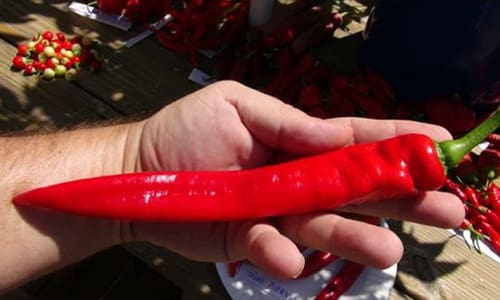 Armenian Cucumber
One of the first vine crops on this list is the Armenian Cucumber. Surprisingly, I discovered it was not a type of Cucumber at all; rather, this crop is a variety of Muskmelon. It looks and tastes like regular cucumbers but contains a thin, light green skin that can grow up to 36 inches long. Thus, providing larger yields.
While growing these crispy texture crops, I noticed that, like cucumbers, Armenian also requires a lot of watering. But it was an easy harvest and did not require much care. However, I had to provide good support so that its vines could bear the weight of the fruit.
Nevertheless, it is super rich in vitamins and minerals, making it a great addition to all your dishes.
Related: I Fermented My Entire Garden, Now What?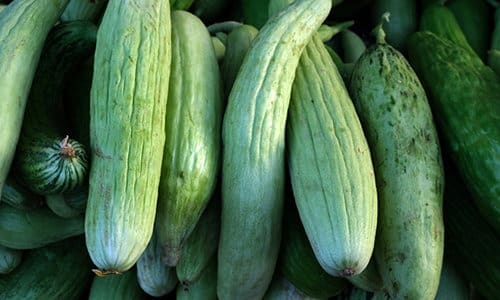 Daikon Long White Radish
While radishes are grown all around the world, you would not often find one as rich and big as the Daikon long white radish. The Daikon Radish root can grow up to 18 inches, with diameters as large as 4 inches.
Daikon Radish has a crispy and juicy flavor. I used them to make a number of different recipes, and it serves as a great alternative to regular radishes.
These crops are also surprisingly easier to grow, requiring just a little delicate attention during their harvest.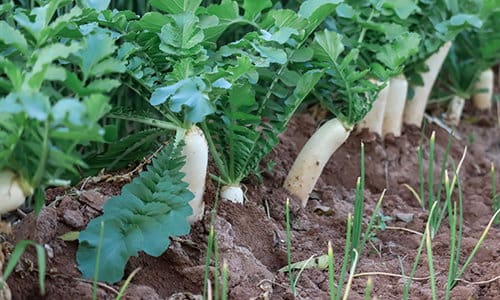 Giant Long Gourd
The Giant Long Gourd is often valued for its long and unusual shapes and is used to make home decorations or liquid containers. Despite the fact that it's usually grown for its decorative value, the Giant Long Gourd tasted surprisingly good when prepared with a variety of dishes.
However, I recommend you only eat a Giant Gourd when it tastes slightly sweet and is not hard and bitter since bitter Gourd is attached to a lot of health concerns. Besides, the Giant Long Gourd can be grown easily; its vines require a lot of space.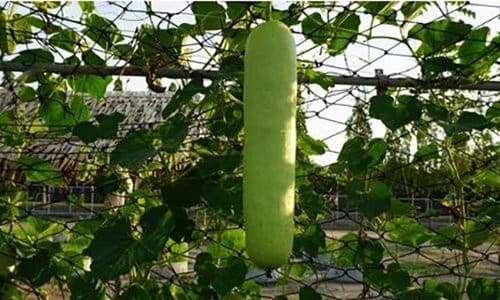 Tree Collards
One of the longest crops on my list, the Tree Collards, are actually green leaves that grow upright on long stems. Some of my Collard Trees grew to six or sometimes even ten feet, survived for a year after becoming a plant, and regularly produced new Collards.
Additionally, Collard leaves are rich in vitamins and minerals and don't take up much time and effort. One common thing you need to ensure is to water regularly and plant the tree every 4 to 6 weeks.
By growing any of the above-listed giant edible crops, I am sure your plate and stomach will never be empty again. Nevertheless growing crops can be a long and tiring process, but it all changes to joy the moment you start growing massive crops that yield large results with less effort and care.
Lastly, growing these selective giant edible crops in my home garden works wonders for me, and I hope the same for you. Happy gardening!
You may also like: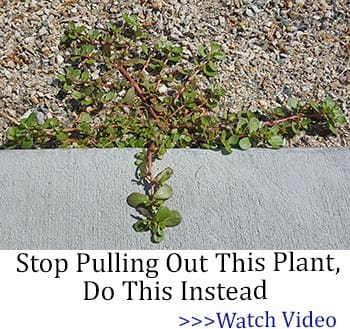 Best Crops For Your Survival Garden
The Long-Lasting Food That Amish Pioneers Turned To In Dark Times  (Video)
I Used Beer In My Gardening Routine
Gardening Mistakes Most Beginners Make