When we hear of survival stories, we commonly hear of people who were trapped in the wilderness in exotic locations and managed to find a way out. Very rarely do we hear about the homeless people in our background who struggle to survive each and every day.
If you lost your home, your car, all of your money, your relatives, and most of your possessions, what would you do?
While you may believe that such extreme circumstances may never happen to you, the truth is that any large-scale or long-term disaster that could strike the next day could very well force you out onto the streets with nothing but the clothes on your back.
Newspapers Aren't Just for Fake News…
First and foremost, the newspaper is extra kindling to get a fire going. Simply light up a corner with a match or lighter and the rest of the paper will catch into flame.
But you can also use newspaper as bedding or as insulation. You can use it as a sheet to keep you covered while you sleep or crumple a sheet up to serve as a pillow. For insulation, you can stuff your clothing full of newspaper in cold weather to keep yourself insulated, or otherwise insulate the inside of your shelter with it.
Why Do Homeless People Dress In Layers?
This may sound like a redundant tip because homeless people don't exactly have a lot of options in regard to the clothing that they can wear.
The best way to dress for the homeless living on the streets is to wear layers and then add or remove layers as you see fit. While you want to wear plenty of warm clothes to keep you warm in cold weather while moving you may actually want to take off a layer or two because otherwise, you could sweat (which would cause you to freeze). Additionally, making sure you have extra layers is recommended since clothing has many uses. For example, it can be used as rope, bandages, napkins, shelter, collecting water… So, choose your clothing wisely! Everything must have a purpose.
If possible, you also want to hopefully have clothes that have plenty of pockets and compartments for storing things.
A Trick to Keep You Warm While You Sleep
You may actually find it difficult to keep yourself warm when out on the city streets. Nonetheless, you have options. Building a small fire is definitely one way to keep you warm, but another way is to use cheap Mylar space blankets that can reflect your own body heat back to you. Yet another method is to fill up water bottles or containers with boiled water and then place them under your blanket with you just like some of the homeless people do.
The Coffee Can Heater
Out on the streets, you can actually build your own portable stove for both warmth and cooking purposes by taking a coffee can and then filling it up with petroleum jelly and lighting it up.
The Unexpected Item You Need to Stay Clean
Sanitation standards are definitely going to be down out on the streets in comparison to what you're used to, which is why it's only more important to pay extra close attention to your personal hygiene.
Most city shelters have hot showers and parks should have swimming pool shelters that you can use to warm yourself up. Meanwhile, baking soda can be re-purposed as deodorant, soap, toothpaste, and shampoo and can be bought on the cheap in most stores.
The Free Breakfast Trick
Something that almost all homeless people have in common is they know exactly where they need to go to find food. This means if you meet up with other homeless people, they should be able to tell you where you can go to get a good meal.
If you don't find anybody, however, you still have a few tricks up your sleeve. Most hotels offer free breakfasts that you can go to, but it's important that you make yourself look clean and presentable before you enter a hotel (this is where good personal hygiene comes in). In addition, several fast food restaurants will have throw-away food at the end of the day that you can ask for as well.
How to Pack a House in a Bag
This is a little-known survival skill but also one that almost all homeless people practice: they never unpack. All of their possessions are instead always kept in their bags or pockets and ready to go in a second. This is because homeless people understand that they will never stay in one place for long, and other people could kick them out of where they are staying at any time (ex. cops, other homeless people, restaurant managers, city authorities, etc.).
Keep an Eye Opened at All Times
This tip goes nicely along with the previous tip. Not only do you want to keep all of your possessions packed at all times, but you also want to keep all of your items on your person as well. This is because when living on the streets, you will always be vulnerable to theft. While it's understandable if you need to keep other items in your backpack, make sure that the pack is always in your hands or over your shoulder. When you're sleeping, just use it as a pillow.
Keep to Familiar Ground
You will never truly know if an area is safe unless you, well, know the area, right? This is why it's important that you get to know the streets, restaurants, people, and other businesses around you as much as possible before you start to think about settling down.
Find Happiness in the Smallest Things
Many people don't initially realize this, but the hardest part of survival is never the physical aspect of it, it's the emotional aspect. When you've lost everything you had, and are now living on the streets, it's easy to become filled with feelings of depression, desperation, anger, or sadness. Instead, you need to replace those feelings as much as you can with hope, and the way to go about that is to adopt a positive outlook on how things will be in the future (ex. that you'll see your friends and family again, that everything will go back to normal, etc.).
Have a Back-Up Strategy
Finally, homeless people understand that they may not get to stay in one particular area forever, no matter how safe it seems or has been so far. You must be ready to flee at the first sign of danger, even if you have been staying in your perfect campsite or bug-out location. After all, no disaster plan is complete without a backup strategy!
You may also like:
Survival Bread To Make In An Emergency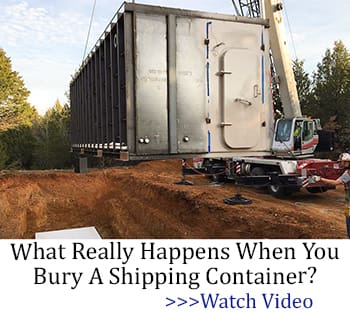 New Invention 12X More Efficient Than Solar Panels (Video)
50 Movies That Will Teach You A Lot About Survival
How to Make Homemade Cottage Cheese