Even the smallest gardens offer us a place to enjoy the peace and beauty of nature. Simply to wonder about the freshness of new harvest growth, or to enjoy the shade of an old tree, gardens provide an endless ability to create beauty and nourishment.
These following projects will not only offer you the opportunity to make good use of your practical skills but will also add to your enjoyment of the garden. They range from simple projects that will only take a few hours to complete, to the more adventurous ones that require a greater amount of planning and skill.
All of them are intended to enhance your enjoyment of nature around you.
Raised Herb Garden
Here is the chance to combine your woodworking skills and your culinary acumen. A raised herb garden is the foundation for the gourmet kitchen and these herb boxes will be the ticket to great kitchen adventures. You can start these small and add more units as required. Think fresh basil and tomato salad or chopped chives on a French omelette. It is worth it.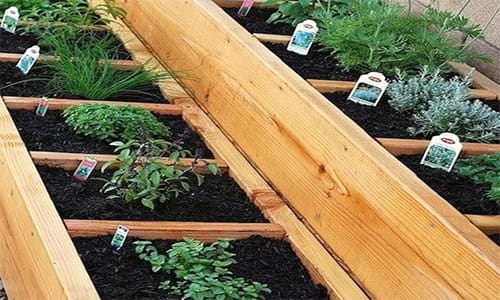 Lounger Chair
Think summer afternoons in the garden with a cold drink and just the sound of nature all around you. A warm sun to lull you into a lazy afternoon routine.
These easy to make loungers are the ideal project for an introduction to woodwork. They can also be upgraded by the addition of wheels to make moving around or storing and easy operation.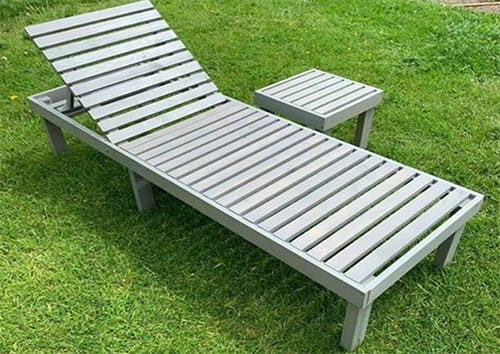 The Partner Bench
Just the seat for a late afternoon as the sun is setting and a glass of your preferred beverage, to salute the ending of a productive day.
The bench has a center table and lovely wide armrests to keep a plate of tasty snacks close by. The project makes use of readily available timber sized stock, so construction is easy and quick.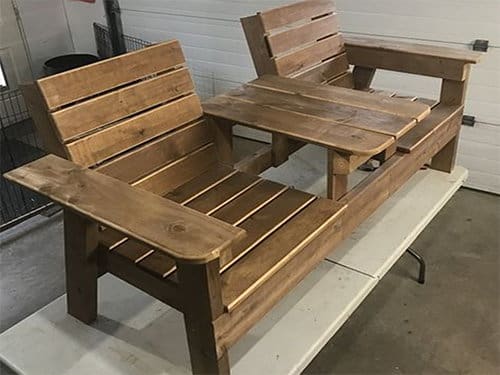 Butterfly Houses
They look like they belong in a fairy tale and perhaps they do but, these little butterfly houses are great boost to bringing nature into your garden. Much like a bird feed, the butterfly feeder is stored with snacks to attract colorful wings to brighten up the garden.
These houses are great to use up the collection of off cuts that always seem to pile up in the workshop.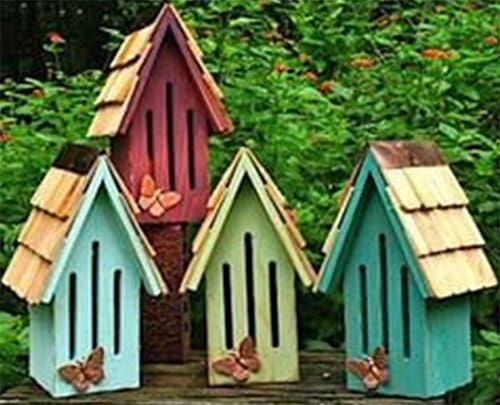 Veggie Box
Springtime is when you should be looking to prepare to bring some color form the garden right up into the house with some easy to make flower or veggie boxes that fit under the window and allow the beauty of new flowers or veggies to be appreciated from inside the house. The boxes are inexpensive to make even the novice carpenter will be able to show off his or her skills.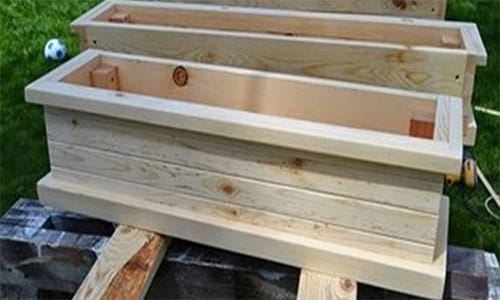 Bird Feeder
Here is a chance to impress friends and family with this beautiful little bird feeder. This is a project to challenge your woodworking skills but with a little extra care the results will be so rewarding even the birds will rate your feeder as a superior eating establishment.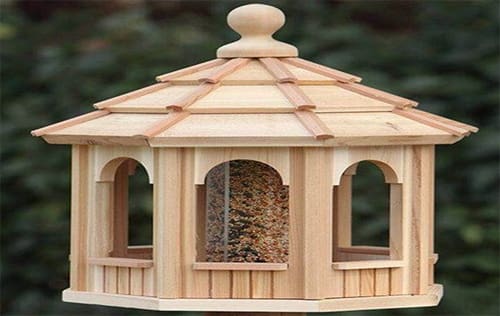 Owl Box
Humans have a great affinity for owls. Legends are full of stories about them and their superior knowledge. These easy to make owl boxes are an invitation to the owls to take up residence in your garden and control the less helpful visitors to the garden, like mice and rats and moles. Asleep for most of the day they are silent sentries protecting your property.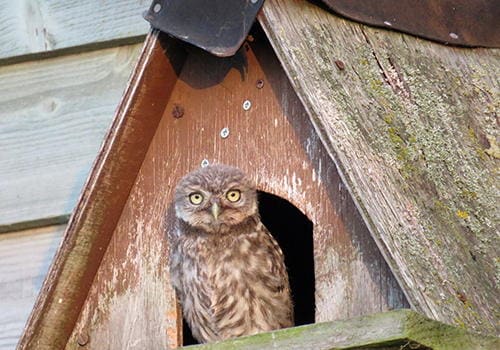 Picnic Foldable Table
Raise the bar in picnic dining with this versatile little picnic table that folds up for easy storage and can be used on the beach or on the grass. There is space to securely hold a bottle of wine and two glasses and some tasty snacks to go along with the drinks. The table can be made from plywood, but solid wood looks so much better.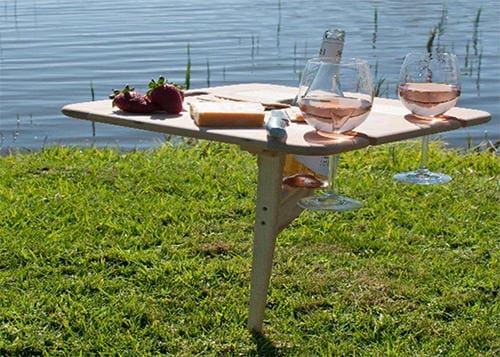 Farm Family Board
Farm style table for when the family gets together. Made from solid timber this is a table meant for long family reunions and times for catching up on the news. It's a time for comfort food and a little wine or beer on the patio during the long summer afternoons.
Select a timber that can withstand some weather and some robust treatment from the grandchildren. Loving memories are made around this table.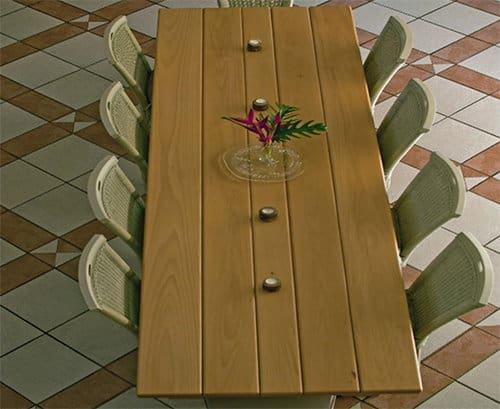 Suspended Terrace
Decking is an expensive business but with a little care and practice it is well within the scope of the enthusiastic woodworker. It is important to mark out and prepare the area very accurately, but after that, it is simply a step by step operation and the completed item will do wonders to your garden; especially those areas that were underutilized because of being on a slope.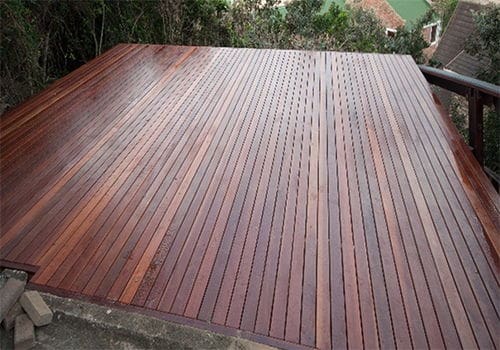 Scrap Small Table
Once you have completed your decking masterpiece the off cuts can be used to make this useful outdoor table. The table only needs to be treated with the appropriate sealer and you could use the same sealer as applied to the deck to keep the table in pristine condition. The size of the table can be altered according to the size and number of off cuts available.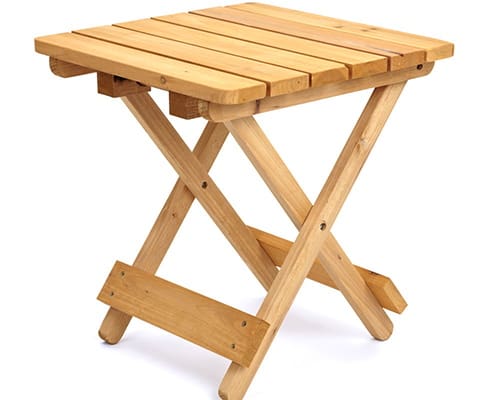 Corner Seat
Here is an example of a comfortable outdoor corner seat that can be put together by the novice carpenter at a low cost as the timber for this seating is made from pallets. All it takes is a little imagination and an eye for making use of the better part of the pallet. A couple of colorful cushions will transform the bare wood into a stylish outdoor comfort zone.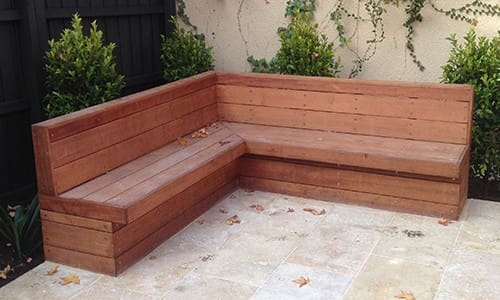 Dinner Setup
Here is another example of what can be done using cheap pallet wood and a healthy dose of imagination. The construction of the individual items will take extraordinarily little time and some enthusiastic sanding down and sealing will be well rewarded with a finished product that is versatile and attractive. And best of all there are a lot of environmental points scored for using reclaimed timber.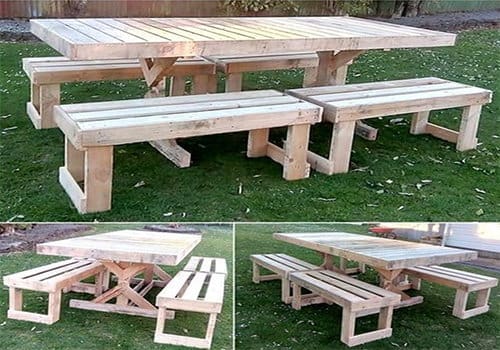 Tree Trunk Seating
The only limitation to outdoor furniture design is your imagination. Here a tree trunk has been cleverly combined with a collection of old chairs to make a seating that is comfortable and appealingly eccentric.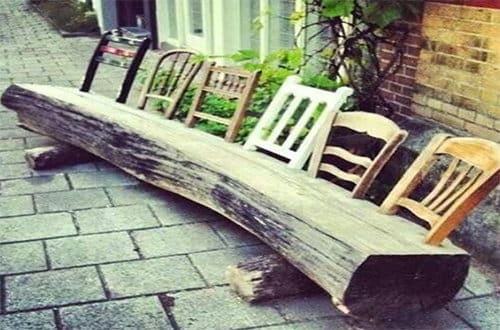 Refreshing Bench
Every garden, no matter how big or small, needs a bench placed in a convenient position to put your spade down on a hot day and sit down for a rest and sip on something cold. The bench is not difficult to build but it will look so much better with substantial legs so don't skimp on the timber for this item. Feel free to rest and recharge a bit, while you are doing your gardening.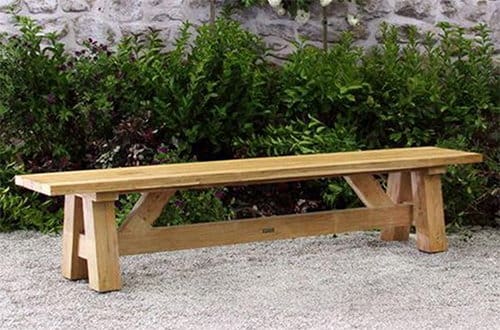 Heavy Lazy Chair
Moving into the seriously heavy side of furniture this chair is made from reclaimed square sectioned posts that were originally used for heavy construction. A little muscle power is required to assemble this chair but then there is not too much joining to get through. It is simple but attractive unit made for lazy lounging.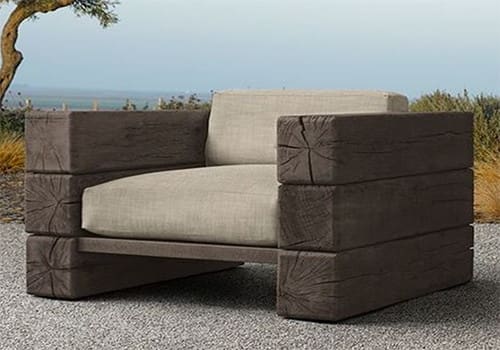 Family Dining Table
Staying with the theme of heavy furniture this beautiful outdoor dining table combines the heavy straight lines of simplicity with a minimal elegance. It calls out for family and friends to join in on long summertime lunches and best of all it requires little in the way of maintenance as the massive wood sections are almost indestructible.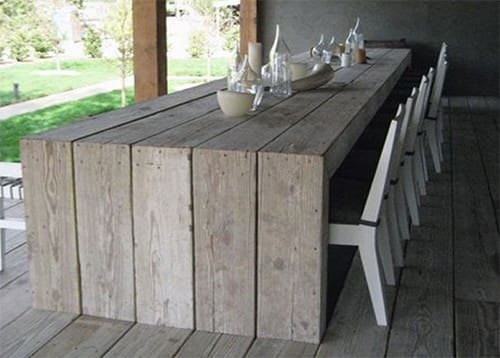 Wall Station
This is a charming way to turn a bare wall into an attractive garden feature. At first appearance it looks like quite an elaborate project but don't be discouraged, the individual components are fairly easy to build and there is no requirement for sophisticated machinery. This is a truly "proudly built by me" project.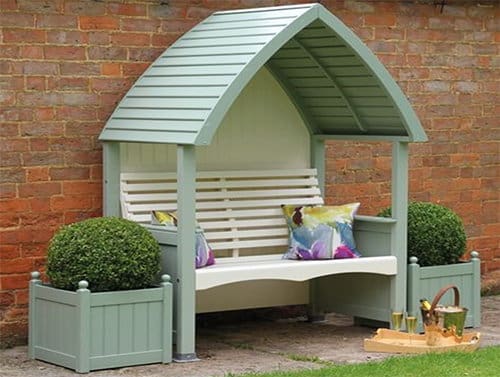 Open Bar
Here is a real cheat's project. All you need are two pallets and three or four paving stones and presto, your bar is open for business. Best to secure the bar to the wall and that is about all the handy work required apart from the painting.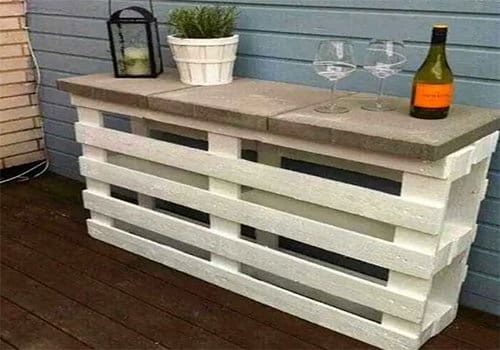 Fence Hanging Lights
Add a touch of night-time style to your garden with these attractive wall hanging lights. By using LED features there is no wiring required and the tops of the lights can be fitted with small solar panels to charge the batteries. Best of all they are completely weatherproof.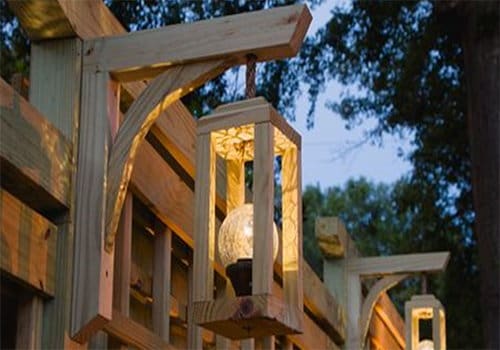 Patio Structure
It's time to get the drawing book out and plan the next big project. It is going to take some time and effort, but the result will make it all worthwhile. During the hardworking hours of construction take a little break and imagine the nights with friends and family spending happy hours in this, your little garden summer evening spot.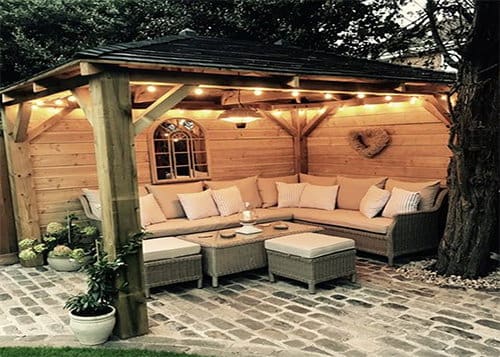 Fishpond
Add a soothing feature to your garden with this beautiful wooden cladded fishpond. It is easy to build and machined timber will make the job so much quicker. Simply add a liner and a small pump and if you want to get a little smarter, an underwater light to make this a much-admired feature of your garden.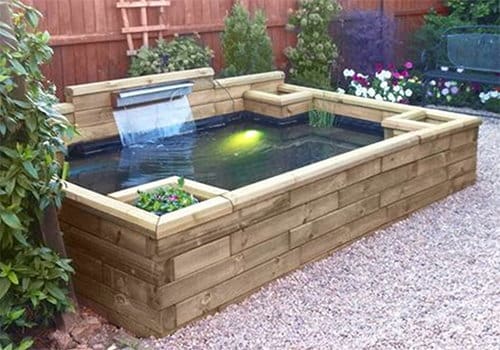 Flower Box
Here is a woodworking project that involves a walk in the forest. With a keen eye you should be able to find a log that is hollow and with a little ingenuity it will make the most beautiful flower box. Cleaning up the outside of the log with a wire brush will enhance the beauty and if you really want a five-star appearance, some sealer will make it the perfect garden feature.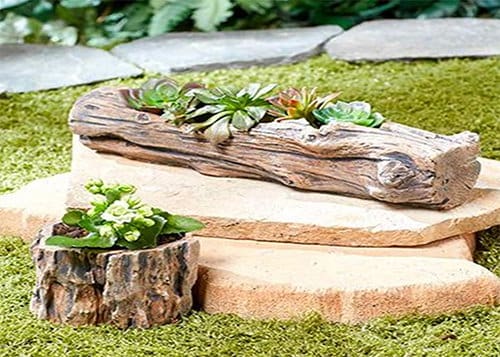 Foot Path
Move way past the conventional and score yourself full points for your environmental sensitivity.
These slices of timber make for an extremely attractive pathway that can meander through your garden linking all the best spots. It is easy to lay and assuming the timber is resilient hardwood it should last a long, long time.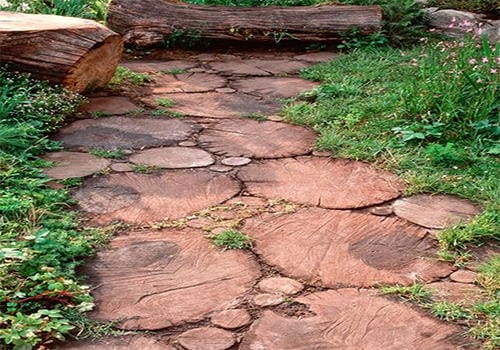 Candle Holder
There is nothing quite as romantic as the gentle glow of candles on a still and windless evening. Add to this the cost of these naturally beautiful holders is almost nothing and the effort required to make them is way lower than the beauty they will deliver. They will add a warm and charming atmosphere to your garden. Trust me. It's irresistible.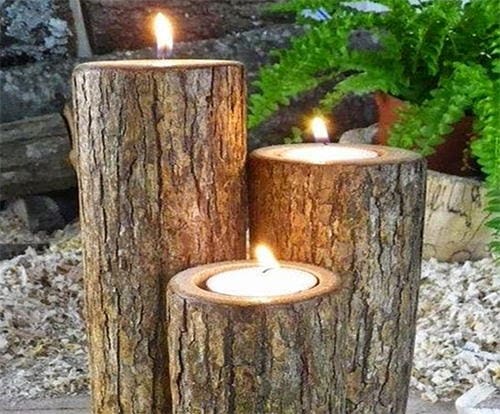 Just imagine you have all of these in your backyard. If you can picture it, it is time to actually do them. The benefits on the long run cannot be measured.
What other wooden backyard projects do you have on your homestead?
You may also like: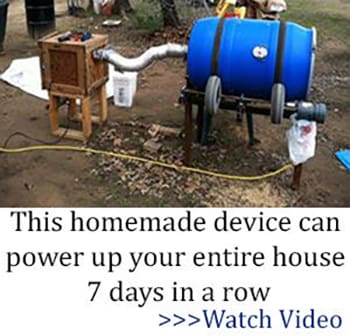 The 10 Best Trees For Homesteaders
The World's Largest Collection Of Wood Plans (Video)
The One Tree That Every Homesteader Should Plant